Boat Rockerz 530 Bluetooth Headphone with Mic (Carbon Black)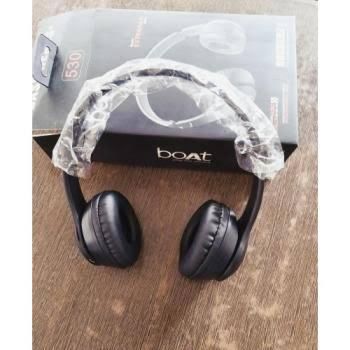 Boat Rockerz 530 Bluetooth Headphone with Mic (Carbon Black)
Cash on Delivery available
 ₹100 Flat Discount Code-  Yo100


and Shopping to win prize everyday.
Product Description:
• Extra 3.5mm port: yes (Cable Supplied)
• Battery Charging: Micro USB Charging
• Rated power:10mW
• Net Weight: 110g
• Warranty: 1 year Manufacturer Warranty
• Delivery Includes: Wireless Headphone, Manual , Audio Cable, Charging Cable
• Super Bass
• Sound: HD Clarity with Super Bass
• Drivers: 40 mm
• Type: On Ear
• Connectivity: Bluetooth / Wireless
• Compatibility : All Mobiles , Laptop And Tablets
• Microphone: Noise Cancelling
• Operation range: 10 meters
• Playing time: Up to 8 hours
• Charge time: Nominal charging time: 2 hours
Product Detail:
Designed to entertain, built to last, the Boat Rockerz 530 Bluetooth On the Ear Headphones with Mic are sure to be your best buddy in solitude. Its high-quality, lightweight construction allows you to carry it everywhere. You can also easily manage your calls with its built-in microphone. The powerful 40 mm dynamic drivers with the speaker resistance of 32 Ohm enable the headphones to deliver a punchy, rhythmic response to the most demanding tracks. Furthermore, its On the Ear design provides maximum comfort when in use for long hours.

Google:
boat rockerz 530 bluetooth headphones (black),boat rockerz 530 bluetooth,boat rockerz 530 bluetooth headphone,boat rockerz 530 bluetooth headphones,boat rockerz 530 bluetooth earphones,boat rockerz 530 bluetooth headset with mic,boat rockerz 530 bluetooth headset with mic review,boat rockerz 530 on-ear bluetooth headphone with mic review,boat rockerz 530 wireless bluetooth headset with mic,boat rockerz 530 on-ear bluetooth headphones with mic,boat rockerz 530 super bass bluetooth headset with mic,boat rockerz 530 super extra bass bluetooth headset with mic,boat rockerz 530 super extra bass bluetooth headset with mic review,boat rockerz 530 super extra bass bluetooth headset with mic price,boat rockerz 530 bluetooth headphones,boat rockerz 530 with mic,boat rockerz 530 bluetooth,boat rockerz 530 wireless bluetooth headphone price,boat rockerz 530 super extra bass bluetooth headset,boat rockerz 530 on-ear bluetooth headphones (carbon black) Yoshops,boat rockerz 530 on-ear bluetooth headphones (carbon black) price,boat rockerz 530 on-ear bluetooth headphones (carbon black) price in india,boat rockerz 530 on-ear bluetooth headphones (carbon black),boat rockerz 530 on-ear bluetooth headphones (carbon black,boat rockerz 530 on-ear bluetooth headphones (carbon black) on Yoshops,boat rockerz 530 on-ear bluetooth headphones (carbon black) Yoshops,boat rockerz 530 on-ear bluetooth headphones (carbon black) review,boat rockerz 530 on-ear bluetooth headphones (carbon black) review,boat rockerz 530 on-ear bluetooth headphones (carbon black) price,boat rockerz 530 on-ear bluetooth headphones (carbon black) price in india,boat rockerz 530 on-ear bluetooth headphones (carbon black) Yoshops,boat rockerz 530 on-ear bluetooth headphones (carbon black) Yoshops,boat rockerz 530 on-ear bluetooth headphones (carbon black,boat rockerz 530 on-ear bluetooth headphones (carbon black) by boat,boat rockerz 530 on-ear bluetooth headphones (carbon black) on Yoshops.com