Franchise Cum Investment Program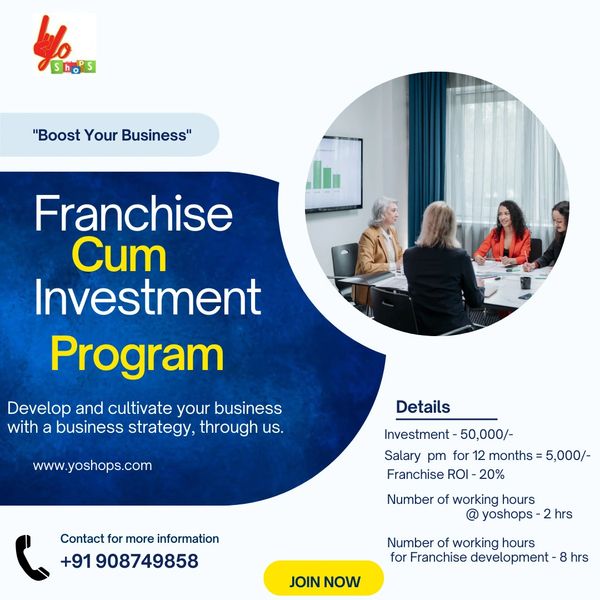 Franchise Cum Investment Program
Franchise Program Details:
| | |
| --- | --- |
| Training Topics | LKG to PG all subject, Data Science, Data Analytics |
| Registration Fee |  ₹50,000/- |
| Work Duration @ yoshops.com | 2 Hour per Day |
| Time of working for yoshops | 6:00 pm to 8:00 pm |
| Salary per Month (6 Months) | ₹10,000/- |
| Training Modes | Online Classroom |
| Hiring of employees for franchise | Only interns of yoshops will be considered. They should be given internet allowance( ₹500) along with salary. |
| Working Duration for Franchise Development | 8 Hours per Day |
| Time of working for Franchise | 10:00 a.m to 6:00 p.m |
| Profit Ratio | 80:20 (80% for Franchise Owners & 20% for yoshops.com) |
| Franchise Rate of Interest | 20% |
Invest ₹50,000/-, earn at least ₹60,000/-
Program Description:
 If you are looking to setup your own business then franchising is a great way to start. If you are highly self-motivated, have an entrepreneurial streak, and can work hard to make your dreams a reality then this is the right option for you. Become a part of yoshops.com family. Get the freedom of working under the umbrella of yoshops.com.
Day by day the demand for Data Science & Analytics is increasing. This franchise is dedicated to our passionate partners, who want to set up their own business through a noble motive of educating students. This training is meant to make sure that not only theoretical knowledge, you will gain ample hands-on practice in industry relevant tools and techniques related to data science & analytics.
You will learn from professional data scientist, which makes you ready for this franchise program. Reading this text means you're already in this field, so let's educate students together, so that they become future ready & can achieve their dreams.
Best Franchiser of the Month: