A0-105 Portable Wireless Bluetooth Speaker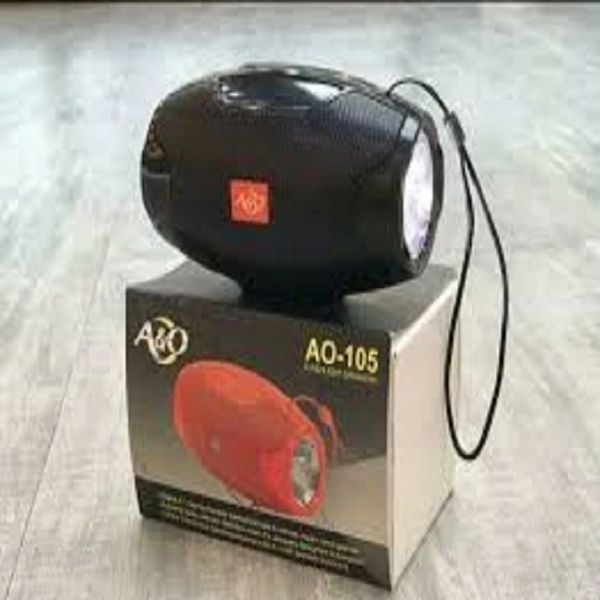 A0-105 Portable Wireless Bluetooth Speaker
CASH On Delivery Available
1.Yo-Gift Available

Buy A0-105 OG Wireless Bluetooth Speaker at a price of Rs.499 from Yoshops.com
Product Detail:
Brand

A & Q
Body Material

Plastic
Rechargeable

1200 mAh
Weight

480 gm
Model No

AO-105
Battery

5 hrs
Digital 2.1 Home theater performance in movie, music and games.
Powerful bass without distraction from its uniquely designed subwoofer.
Other interactive gaming experience in multi-speaker surround.
Product Description:
SUPERIOR SOUND QUALITY WITH RICH FULL BASS - Our digital audio processor pumps up the bass and enhances the clarity of the mids and highs; 14 Watts of power delivers surprisingly loud room filling volume from the dual precision stereo drivers and proprietary bass radiator; distortion free stereo sound even at max volume …. The Perfect Gifts for Women, Gifts for Men.Lasting 8 hour music play, wide frequency range.mellow and natural bass, let you blend in a music world.dual-frequency decoding, support tf card, plug-and-play.big power with small volume, redefine the super bass concept.non-slip mat design the bass more prominenthigh tension force foot pad, prevent noise effectively.two bluetooth interconnection technology.two bluetooth speakers auto pairing within 15 meters and formation into stereo sound. It brings a 3d surround sound experience.
Google:portable wireless bluetooth speaker price,portable wireless bluetooth speaker with mic,portable wireless bluetooth speaker yoshops,portable wireless bluetooth speaker sylvania,portable wireless bluetooth speaker reviews,portable wireless bluetooth speaker with microphone,portable wireless bluetooth speaker sony,portable wireless bluetooth speaker ebay,portable wireless bluetooth outdoor speaker alarm clock mp3 player,yoshopsbasics portable wireless bluetooth speaker,yoshopsbasics portable wireless bluetooth speaker manual,beats pill+ portable bluetooth wireless speaker - asphalt grey,anker portable wireless bluetooth speaker,aulker portable wireless bluetooth speaker,altec portable wireless bluetooth speaker,the best portable wireless bluetooth speakers,the kove commuter portable wireless bluetooth speaker,portable wireless bluetooth speaker jbl,sony portable wireless bluetooth speaker - black,philips portable wireless bluetooth speaker bt3000w,wireless portable bluetooth boombox speaker,jbl xtreme portable wireless bluetooth speaker (black),jbl xtreme portable wireless bluetooth speaker (blue),sony srs xb21 portable wireless bluetooth speaker - blue,sony srs xb01 portable wireless bluetooth speaker (black),sony srs xb31 portable wireless bluetooth speaker black,sony srs xb41/b portable wireless bluetooth speaker black,sony srs xb21/b portable wireless bluetooth speaker,sony srs xb41/b portable wireless bluetooth speaker,sony srs xb21/b portable wireless bluetooth speaker black,b&o beoplay p2 portable wireless bluetooth speaker,b&o beoplay p2 portable wireless bluetooth speaker (black),jvc sp-ad70-b portable bluetooth wireless speaker,jvc sp-ad70-b portable bluetooth wireless speaker - black,liztek portable wireless bluetooth speaker connect with mic,jbl xtreme portable wireless bluetooth speaker (camouflage),comiso portable wireless bluetooth speaker,c6 portable wireless bluetooth speaker,mianova portable wireless bluetooth speaker 6 color led,cheap portable wireless bluetooth speaker,jbl xtreme 2 portable wireless bluetooth speaker - camouflage,jbl go portable wireless bluetooth speaker driver download,doss wireless portable bluetooth speaker,zebronics delight portable wireless bluetooth speaker,damson vulcan portable wireless bluetooth speaker,doss soundbox portable wireless bluetooth speaker,detel posh portable wireless bluetooth speaker,pure streamr portable wireless bluetooth speaker with dab digital radio,doss soundbox pro portable wireless bluetooth speaker,f&d w4 wireless portable bluetooth speaker,f&d w12 wireless portable bluetooth speaker,f&d w17 wireless portable bluetooth speaker with high bass (black),f&d w17 wireless portable bluetooth speaker,f&d w17 wireless portable bluetooth speaker with high bass,f&d w17 wireless portable bluetooth speaker with high bass (gray),f&d t5 trolley wireless portable bluetooth speaker,f&d r60bt bookshelf wireless portable bluetooth speaker (black),sony portable wireless bluetooth speaker extra bass,sony portable wireless bluetooth speaker features extra bass,e13 mini portable wireless bluetooth speaker,jbl xtreme portable wireless bluetooth speaker,ematic portable bluetooth wireless speaker,ultimate ears wonderboom portable wireless bluetooth speaker,ultimate ears megablast portable wireless bluetooth speaker,portable wireless bluetooth speaker fm radio mp3 player,portable wireless bluetooth floating speaker,portable bluetooth wireless speakers for sale,wireless portable speaker+bluetooth+fm+usb+sd card+rechargeable,jbl go portable wireless bluetooth speaker yoshops,jbl go portable wireless bluetooth speaker fm radio,fisher portable wireless bluetooth speaker,philips bt50g portable wireless bluetooth speaker grey,glendale portable wireless bluetooth speaker,jbl go portable wireless bluetooth speaker,jbl go portable wireless bluetooth speaker with mic,jbl go portable wireless bluetooth speaker with mic (blue),bose soundlink revolve portable bluetooth wireless speaker - grey,jbl go portable wireless bluetooth speaker with mic price,jbl go portable wireless bluetooth speaker with mic (black) yoshops,t&g portable wireless bluetooth speaker,t&g tg123 portable wireless bluetooth speaker,g-project g-drop portable waterproof wireless bluetooth speaker,g-project g-drop portable waterproof wireless bluetooth speaker reviews,jbl go portable wireless bluetooth speaker how to charge,x8 portable wireless bluetooth headset review,havit portable wireless bluetooth speaker,bluetooth wireless speaker portable heavy bass,soundbot sb571 portable wireless bluetooth speaker with hd bass,hott portable bluetooth wireless speaker,blackweb highwire portable wireless bluetooth speaker with led light,helix bass wireless portable bluetooth speaker,jvc sp-ad50-h portable bluetooth wireless speaker,jvc sp-ad60-h portable bluetooth wireless speaker,lenrue portable wireless bluetooth speaker instructions,zosam portable wireless bluetooth speaker instructions,a2 lenrue portable wireless bluetooth speaker instructions,ilive portable wireless bluetooth speaker,ironman portable wireless bluetooth speaker,bose soundlink mini portable wireless bluetooth speaker ii,kitsound boombar portable bluetooth wireless speaker instructions,jbl xtreme portable bluetooth wireless speaker in red,jbl portable wireless bluetooth speaker 6000mah,jonter portable wireless bluetooth speakers,jbl xtreme portable wireless bluetooth speaker (red),m&j portable wireless bluetooth speaker,wireless portable bluetooth speaker koryo,karaoke portable wireless bluetooth speaker,kove commuter portable wireless bluetooth speaker,marshall kilburn portable wireless bluetooth speaker,kitsound boombar+ portable wireless bluetooth speaker,kitsound boombar portable wireless bluetooth speaker - red,kitsound boom cube portable wireless bluetooth speaker,portable wireless bluetooth speaker led,lenrue portable wireless bluetooth speaker,lenrue portable wireless bluetooth speaker user manual,south beach portable wireless bluetooth lantern speaker,liztek portable wireless bluetooth speaker,loudest portable wireless bluetooth speaker,portable wireless bluetooth tailgate speaker with led flashing lights with mic,lenrue portable wireless bluetooth speaker with built-in-mic,portable wireless bluetooth speaker microphone,zosam portable wireless bluetooth speaker manual,lenrue portable wireless bluetooth speaker manual,lingyi portable wireless bluetooth speaker manual,jbl xtreme portable wireless bluetooth speaker manual,jvc sp-ad50-m portable bluetooth wireless speaker,jvc sp-ad60-m portable bluetooth wireless speaker - white & gold,jvc sp-ad60-m portable bluetooth wireless speaker review,new m-408 portable super bass wireless bluetooth speaker,m-408 portable super bass wireless bluetooth speaker,xiaomi mi portable wireless bluetooth speaker,mi wireless portable bluetooth speaker,sony srs xb01 portable wireless bluetooth speaker nz,neutron x9 portable wireless bluetooth speaker,ue boom 3 wireless portable bluetooth speaker - night black,ue megaboom 3 wireless portable bluetooth speaker - night black,bang & olufsen beolit 17 portable wireless bluetooth speaker - natural,nikai portable bluetooth wireless speaker nbts 70 black,neocore wave a1 portable wireless bluetooth speaker,ultimate ears boom 3 portable bluetooth wireless speaker (night black),portable wireless bluetooth outdoor speakers,innovative technology portable wireless bluetooth outdoor speaker,ar portable wireless bluetooth in/outdoor speaker-2pk,ar portable wireless bluetooth in/outdoor speaker,sony gtk-pg10 portable wireless bluetooth outdoor speaker,muse wireless portable bluetooth speaker 2x3w output power in white,10.or rave+ portable wireless bluetooth speaker,b&o beoplay p6 powerful and portable wireless bluetooth speaker,b&o beoplay p6 powerful and portable wireless bluetooth speaker (natural),jbl xtreme portable wireless bluetooth speaker price,jbl go portable wireless bluetooth speaker price in india,acoustic research portable wireless bluetooth speakers premier series,panasonic portable wireless bluetooth speaker,wireless portable bluetooth pa speaker system,artis bt90 wireless portable bluetooth speaker price,philips portable wireless bluetooth speaker,qualimate stark wireless portable bluetooth speaker,alfawise q3 mini portable bluetooth wireless speaker,alfawise q3 mini portable bluetooth wireless speaker - black,ihome portable bluetooth speaker with qi wireless charging pad,bluetooth portable speaker with wireless qi charging,yoshopsbasics portable wireless bluetooth speaker review,lenrue portable wireless bluetooth speaker review,zamkol portable wireless bluetooth speaker review,ilive portable wireless bluetooth speaker review,sony portable wireless bluetooth speaker review,portable wireless bluetooth srs xb21 speaker,portable wireless bluetooth speakers review,sony srs xb21 portable wireless bluetooth speaker,jbl xtreme portable wireless bluetooth speaker specs,jbl go portable wireless bluetooth speaker specifications,powerful portable wireless bluetooth stereo speaker,benq trevolo s wireless bluetooth portable electrostatic speaker,portable bluetooth wireless tailgate speaker,veho m2 portable wireless bluetooth speaker - twin pack,tg113 portable wireless bluetooth speaker,tamproad portable wireless bluetooth speaker,ilive portable bluetooth wireless tailgate speaker,toshiba portable wireless bluetooth speaker,tamproad portable wireless bluetooth speaker 20w,best portable wireless bluetooth speaker under $50,jbl xtreme portable wireless bluetooth speaker user manual,jbl go portable wireless bluetooth speaker user manual,ue megaboom portable wireless bluetooth speaker,portable bluetooth wireless speaker waterproof power bank ultra bass subwoofer,sony srs xb21 portable wireless bluetooth speaker - various colors,zamkol portable wireless bluetooth v4.2 speaker,doss soundbox pro portable wireless bluetooth speaker v4.2,veho m2 portable wireless bluetooth speaker,2boom vibe portable wireless bluetooth speaker,veho grey portable wireless bluetooth speaker,xiaomi ai wireless bluetooth speaker portable version,portable wireless bluetooth speaker waterproof,billboard portable wireless bluetooth speaker with built-in mic,zamkol portable wireless bluetooth speakers waterproof,jbl go portable wireless bluetooth speaker w/a built-in strap-hook,sony wireless portable bluetooth speaker (xb10),sony wireless portable bluetooth speaker (xb10) wi,xtreme portable wireless bluetooth speaker,sony portable wireless bluetooth speaker srs-xb21,sony portable wireless bluetooth speaker - srs-xb22,xiaomi portable wireless bluetooth speaker,xcd portable wireless bluetooth speaker,sony portable wireless bluetooth speaker srs-xb20,braven brv-x portable wireless bluetooth speaker,jbl control x wireless portable stereo bluetooth speakers,under armour x jbl ultra portable wireless bluetooth speakers,bliiq infinite x portable outdoor bluetooth wireless speaker,awei y280 portable wireless bluetooth speaker,sony srs-xb10 portable bluetooth wireless speaker - yellow,awei y331 portable wireless bluetooth speaker,y38 wireless bluetooth portable speaker,kate spade new york portable wireless bluetooth speaker,awei y200 hifi wireless portable bluetooth speaker,live tech portable yoga bluetooth wireless speaker,sony xb10 portable wireless speaker with bluetooth (yellow),zosam portable wireless bluetooth speaker,zoom portable wireless bluetooth speaker,zamkol portable wireless bluetooth speaker,zealot s9 portable wireless bluetooth speaker,zerolemon amazing sound portable wireless bluetooth speaker,vanzon climber-z portable bluetooth v5.0 wireless speaker,philips bt50w/00 portable wireless bluetooth speaker white,philips bt50a/00 portable wireless bluetooth speaker blue,philips bt50a/00 portable wireless bluetooth speaker,neocore wave a1 portable wireless bluetooth speaker 10w,1 portable wireless bluetooth speaker,soundbot sb571 portable wireless bluetooth speaker with 12w output hd bass,top 10 portable wireless bluetooth speaker,tg113 portable wireless bluetooth speaker (multicolor),liztek pss-100 portable wireless bluetooth speaker,tagg sonic angle 1 portable wireless bluetooth speaker,softy sbs-1 wireless portable bluetooth speaker,braven brv1srg mint brv-1 portable wireless bluetooth speaker,corseca safari-1 dms1841 wireless portable bluetooth speaker,best portable wireless bluetooth speaker 2020,pyle wireless portable bluetooth speaker - 200 watt,muse wireless portable bluetooth speaker 2x3w,aomais sport ii portable wireless bluetooth speakers 20w bass sound,portable wireless 25w bluetooth speakers with light,wonderboom 2 portable wireless bluetooth speaker,jbl xtreme 2 portable wireless bluetooth speaker,jbl flip 2 portable wireless bluetooth speaker with mic (black),jbl xtreme 2 portable wireless bluetooth speaker (black),jbl go 2 portable wireless bluetooth speaker,jbl flip 2 portable wireless bluetooth speaker,phonokart soul 2 portable wireless bluetooth speaker with mic,spracht blunote 2 portable wireless bluetooth speaker black/silver,invicta portable bluetooth wireless speaker (31494),ultimate ears wonderboom portable wireless bluetooth speaker 360,ay portable wireless bluetooth 4.2 speakers 30w,charge 3 portable wireless bluetooth speaker,votomy portable wireless bluetooth 5.0 30w speaker vt360,jbl charge 3 portable wireless bluetooth speaker,oontz angle 3 portable wireless bluetooth speaker,jbl clip 3 portable wireless bluetooth speaker,gear4 streetparty 3 portable wireless bluetooth speaker,oontz-angle-3-portable-wireless-bluetooth-speaker-black,ue boom 3 wireless portable bluetooth speaker,ultimate ears boom 3 portable wireless bluetooth speaker,40w portable wireless bluetooth speaker,anker classic portable wireless bluetooth 4.0 speaker,aomais sport ii portable wireless bluetooth speakers 4.0,bible 40w portable wireless bluetooth speaker,jbl charge 4 portable wireless bluetooth speaker,jbl charge 4 portable wireless bluetooth speaker black,bible 40w portable wireless bluetooth speaker review,jbl charge 4 portable wireless bluetooth speaker black (jblcharge4blkam),jbl flip 4 portable bluetooth wireless speaker,jbl flip 4 portable bluetooth wireless speaker - black,jbl flip 4 portable bluetooth wireless speaker bundle,jbl flip 4 portable bluetooth wireless speaker - white,jbl flip 4 portable bluetooth wireless speaker - camouflage,jbl flip 5 waterproof portable wireless bluetooth speaker,amkette boomer maxx 500 portable wireless bluetooth speaker,jbl flip 5 waterproof portable wireless bluetooth speaker bundle,jbl flip 5 portable waterproof wireless bluetooth speaker black,jbl flip 5 portable waterproof wireless bluetooth speaker - black camo,kitsound diggit 55 portable wireless garden bluetooth speaker,harman kardon onyx studio 5 wireless portable bluetooth speaker,jbl flip 5 wireless portable waterproof bluetooth stereo speaker,ice 7 arc star portable wireless floating bluetooth speaker,alto uber pa wireless portable bluetooth speaker 8 mains,braven 805 portable wireless bluetooth speaker,technical pro portable wireless bluetooth rechargeable party speaker 8bomm,portable smart table bluetooth speaker 88w with wireless & usb charging,808 wireless bluetooth portable speaker,philips bt40bk/94 portable wireless bluetooth speaker (black),artis bt90 wireless portable bluetooth speaker