Barbie Doll Toy Combo pack(2 Pack)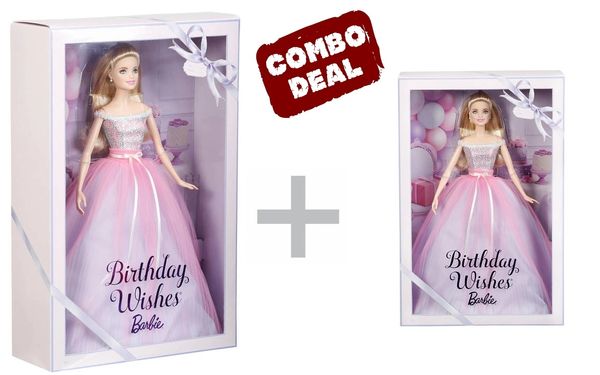 Barbie Doll Toy Combo pack(2 Pack)
Product Detail:
Model Number : VG09023

Color: Multi Color

Item Weight 358 g

Product Dimensions 25.4 x 5.7 x 32.4 cm

Manufacturer's Minimum Suggested Age (years) 3

Product Description:
Barbie doll's look simply by changing her hair. Barbie doll comes with lots of glam accessories to create a new do with ease. A hairbrush and doll hair dryer let young stylists play out the prep on Barbie doll to get her ready for any occasion. A collection of clips and accessories lets them add shape and colour. Choose from two hair color extensions in signature pink and purple, two sets of hair clips with decorative detail and an adorable head band with bow. When the look is complete, Barbie doll can check it out in the heart shaped mirror place it in her hand for added realism. Dressed in a fabulous outfit of pink shimmery skirt, print top and cute shoes, Barbie doll will be ready to head out with fabulous hair or you can take it down, brush it out and start all over for tons of hair styling fun.

Product Type: Toy, Toys,toy dolls for girls,toy doll house,toy dolls for girls realist,toy doll for girls age 2 to 9,toy doll barbie set,toy doll clothes,toy doll for girls,toy doll set,toy doll set for girls,toy doll sets with their house,doll house with doll,doll houses for girls,dolls for girl,doll set for girls,dolls for kids girls,doll houses,doll house for girls in low price under 1000,doll accessories,barbie doll accessories,a dolls house,a doll house with barbie doll,doll baby,barbie doll clothes,barbie doll dresses and shoes,barbie doll for girls,doll gifts for couples,doll in soft toy,doll indian,doll in low price,