Berhampur Special Navratan Pickle Sweet Mango with Dry Fruits 250g.m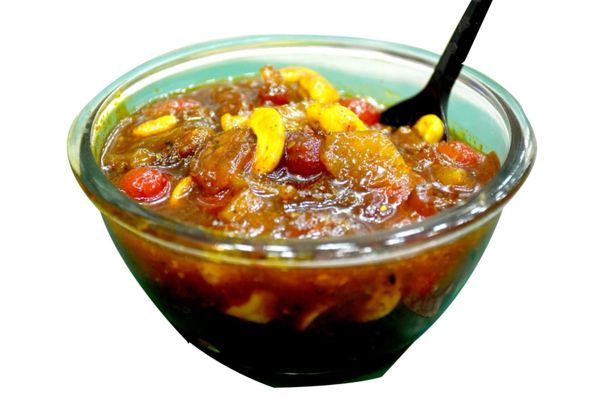 Berhampur Special Navratan Pickle Sweet Mango with Dry Fruits 250g.m
CASH On Delivery Available
1.Yo-Gift Available
Use Coupon Code- Yo50 for Off Rs.50 Discount.
Buy Berhampur Special Navratan Pickle Sweet Mango with Dry Fruits 250g.m at price Rs.99 from Yoshops.com
Description:
Indulge in the rich tapestry of flavour with our Authentic Navratan Pickle, a culinary masterpiece that captures the essence of India's diverse cuisine. This delightful pickle, also known as "Nine Jewels Pickle," is a harmonious blend of nine exquisite ingredients that come together to create a symphony of taste in every bite.
Our Navratan Pickle features a medley of carefully selected fruits and vegetables, each marinated in a secret blend of spices and oils, resulting in a unique and delectable experience. The nine jewels of flavour in this pickle include succulent pieces of mango, lime, carrot, cauliflower, green chili, ginger, lotus stem, and more, all expertly combined to offer a tantalizing taste sensation.
Whether you enjoy it as a side dish, a condiment, or a flavourful accompaniment to your favourite meal, our Authentic Navratan Pickle is sure to elevate your dining experience. It's the perfect addition to your pantry for those moments when you crave a burst of spicy and tangy goodness.
Key Features:
A harmonious blend of nine premium ingredients
Handcrafted with traditional recipes and techniques
Bursting with authentic Indian flavours
Versatile and perfect as a side dish or condiment
Adds a touch of spice to your meals
Indulge in the tradition and heritage of Indian cuisine with every jar of our Authentic Navratan Pickle. Order yours today and experience the magic of the "Nine Jewels" on your palate.