Candytech SPEEDO Dual USB Charger with 2.6 Amp Power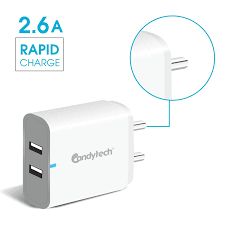 Candytech SPEEDO Dual USB Charger with 2.6 Amp Power
CASH On Delivery Available
1 Yo-Gift Available
Buy Candytech SPEEDO Dual USB Charger with 2.6 Amp Power at a price of Rs.299 from Yoshops.com
Product Detail:
Brand: Candytech
Manufacturer N.B Communication Pvt Ltd
Package Dimensions 20 x 10 x 8 cm; 45 Grams
Item part number ctc8
Compatible devises Smartphones, Headphones
Mounting Hardware 1x Charger, 1x data cable
Batteries Required No
Number of Ports 2
Total USB Ports 2
Manufacturer N.B Communication Pvt Ltd
Item Weight 45 g
Product Description:
DUAL USB PORT: Now you'll charge two mobile devices using only one plug! Charging single device output 2.4A
UNIVERSAL COMPATIBILITY: The USB Charger provides the liberty to use any Smartphone USB Cable with it.
CandyTech adaptor converts normal 220V AC output to 5V/2.4A Dual USB output.
Built-in smart IC, intelligently identify each connected device and supply fast charging.
You can easily charge your iOS & Android smartphones, power banks, mp3 players, iPad, wireless headphones, etc.
Safe and Efficient- BIS safety approved.
Built-in safeguards protect your devices against power surges, over-voltage, short circuits, or overcharging
It auto-detects the connected device's ratings and charges it at the fastest possible speed for that device
Made specifically for Indian sockets, this BIS Approved, this adaptor protects your device from over-heating, over-current, over-charging and also automatically stop charging when the battery is full
Slim & Compact and light-weight body (45 grams) takes up minimal space and appears elegant too
6-month replacement warranty
Google:candytech charger,candytech usb cable,candytech charger price,candytech mobile charger,candytech data cable,candytech car charger,dual usb charger adapter,dual usb charger cable,dual usb charger price,dual usb charger for car,dual usb charger socket,dual usb charger for motorcycle,dual usb charger socket power outlet,dual usb charger plug,dual usb charger apple,dual usb charger australia,dual usb charger Yoshops,dual usb charger and 12v receptacle,dual usb ac charger,dual usb car charger adapter,dual usb car charger an430,powerpoint with dual usb charger,what is a dual usb charger,2.1 a dual usb car charger,dual usb charger bmw,dual usb charger block,dual usb charger best buy,dual usb charger board,dual usb charging block,dual usb battery charger price,dual usb wall charger best buy,dual usb wall charger bunnings,dual usb charger car,dual usb charger can am rt,dual usb charger camera,dual usb charging cable primark,dual usb c charger,dual usb car charger tesco,dual usb c charger macbook pro,dual usb c charger reddit,dual usb c charger anker,dual usb c charger australia,dual usb c charger car,dual usb c charger best buy,dual usb c charger plug,dual usb charger duplex receptacle,dual usb charger for din socket,dual bay usb digital charger,megadream dual usb charging charger docking station,nokia dual usb car charger dc-301,duracell dual usb charger,dual usb c power delivery charger,philips dual usb car charger dlp2554,dual usb charger ebay,dual usb car charger ebay,erd dual usb charger,european dual usb charger,energizer dual usb car charger,energizer ultimate portable dual usb charger,energizer dual usb wall charger,electop dual usb socket charger,dual usb charger for sony np-fz100,dual usb charger for nightstand,dual usb charger for iphone and ipad,dual usb charger for bmw motorcycles,dual usb charger for ipad,dual usb charger gopro,ginsco dual usb charger,goxt dual usb charger,gecko dual usb charger,good dual usb charger,flight gear dual usb charger,goxt 12v dual usb charger,griffin compact dual usb charger,g&bl universal travel adapter/dual usb charger,dual usb charger hidden camera,dual usb home charger,dual usb car charger halfords,fifo dual usb home charger,bikemaster dual usb charger with handlebar mount,hitec dual usb charger,hyundai dual usb charger,hpm dual usb charger,dual usb charger iphone,innergie dual usb charger,ihip dual usb charger,dual usb car charger for iphone,best dual usb charger for ipad,dual usb in car charger,dual-port attachable usb charger by ics innovation,dual usb car charger jaycar,dual usb wall charger jb hi fi,jaycar dual usb charger,jupio usb dual charger,jw dual usb car charger,dual usb charger kit spyder rt,dual usb charger kmart,dual usb car charger kmart,kussmaul dual usb charger,k lite dual usb charger,kodak dual usb car charger,klik dual usb wall charger,huawei ap38 dual super charger usb kfz schnellladegerät,dual usb charger for laptop,dual usb c laptop charger,dual usb car charger cigarette lighter adapter,patona dual usb charger red light,ldnio dual usb charger,landmark dual usb charger,lax dual usb charger,dual usb smart charger with pulsing light,dual usb charger motorcycle,dual usb charger mech,dual usb charging module,dual usb mains charger,dual usb mobile charger,patona dual usb charger manual,dual usb charger switch mount,mi dual usb charger,mi dual usb car charger (silver),dual usb charger nz,dual usb charger near me,dual usb car charger nz,newmowa dual usb charger,neewer dual usb charger,newmowa dual usb charger for sony np-fz100,dual usb charger outlet,dual usb charger socket power outlet 2.1a & 2.1a(4.2a),oraimo dual usb charger,optimate dual usb charger,dual output usb charger,officeworks dual usb charger,newmowa dual usb charger for olympus blh-1,tecmate o-105 optimate dual usb charger,optimate o-105 usb dual charger,dual usb charger port,dual usb charger power adapter,dual usb charger ps4,dual usb charger panel mount,dual usb charger pcb,dual usb charging port,dual usb quick charger,xiaomi dual usb quick charger 36w,flight gear dual usb quick charger,qc 3.0 dual usb charger,quick charge 3.0 dual usb charger socket,qc3.0 dual usb car charger,baseus dual usb quick charging 4.0,sony dual usb car quick charger an430,dual usb charger rocker switch,dual usb rapid charger,dual usb car charger reviews,baseus funzi dual usb charger review,dual usb charger samsung,dual usb charging stand for ps4,dual usb charging stand for ps4 slim & pro,dual usb charging socket,dual usb charger target,dual usb travel charger,dual usb car charger target,dual usb car charger toyota,dual usb wall charger target,digitek dual usb travel charger 2.1a,dual usb outlet tower charger with built-in shelf,at&t dual usb car charger,dual usb mains charger uk,smart dual usb universal charger,ubon dual usb charger,ultimateaddons dual usb charger,best dual usb car charger uk,dual usb usb charger,power up dual usb charger,nitecore usb dual battery charger ulm 10 pro,u yousetm 2.4 amp dual usb wall charger,dual usb charger voltmeter,dual usb vehicle charger,dual usb car charger voltmeter,dual voltage usb charger,varni dual usb charger,moose dual usb charger with voltage monitor,night vision dual usb charger camera,12 volt dual usb charger,12v dual usb charger,dual usb charger walmart,dual usb charger with voltmeter,dual usb charger with mains socket,dual usb charger wilko,dual usb charger wall socket,dual usb wall charger,dual usb wall charger australia,dual usb wall charger walmart,folding desk with/dual usb charger white,folding desk with/dual usb charger black,big w dual usb car charger,travelon worldwide adaptor with/ dual usb charger,xiaomi dual usb charger,xx90 dual port usb charger,x8 dual usb car charger,xiaomi dual usb car charger,xtrememac dual usb wall charger,xiaomi dual usb car charger silver,xqisit dual usb car charger,yonhan dual usb charger,y2k dual usb charger,youse dual usb wall charger review,yenkee dual usb car charger,zus dual usb car charger,zmi dual usb car charger,tecmate optimate 0105 dual usb charger,optimate usb 0 105 dual usb charger,dual usb charger 12v,dual usb car charger 12v socket,sca to dual usb charger - 12v,12v dual usb charger socket panel mount,foxelli dual usb solar charger 10w,dual usb car socket 12v charger power adapter,12v dual usb charger socket,4 in 1 dual usb charger,4 in 1 dual usb car charger,#1 anker 21w dual usb portable solar charger,dual usb charger 2.4 amp,dual usb charger 2.1 amp,dual usb car charger 2.4 amp,dual usb car charger 2.1 amp,dual usb 12-24v charger,neopack dual usb car charger - 2.1 amp,foxelli dual usb solar charger 21w,ravpower dual usb solar charger 28w,2 amp dual usb charger,dual 2 usb port power charger socket 12v,dual 2 amp usb car charger,2-pack miady 10000mah dual usb portable charger,2.anker 21w dual usb solar phone charger,dual usb car charger 3.1a,led dual usb car charger 3.4amp,30w dual usb charger,solaray 3.1a dual usb charger,ravpower 30w dual usb charger,boost↑chargetm dual usb-c car charger 36w,3 anker 21w dual usb solar phone charger,4-outlet & dual usb charging station (white),stealth angel 4-fold solar dual-usb charger,dual usb car charger 5v 4.2a,5v 4a dual usb charger,5 amp dual usb car charger,dual usb c 60w charger,bmw dual usb charger with cable (60cm),bmw motorrad dual usb charger with 60cm cable,70mai dual usb car charger,70mai dual usb car charger midrive cc02