Diabolo Captain America Civil War Q Series Hyun Lights Upgraded Mini Drone Without Camera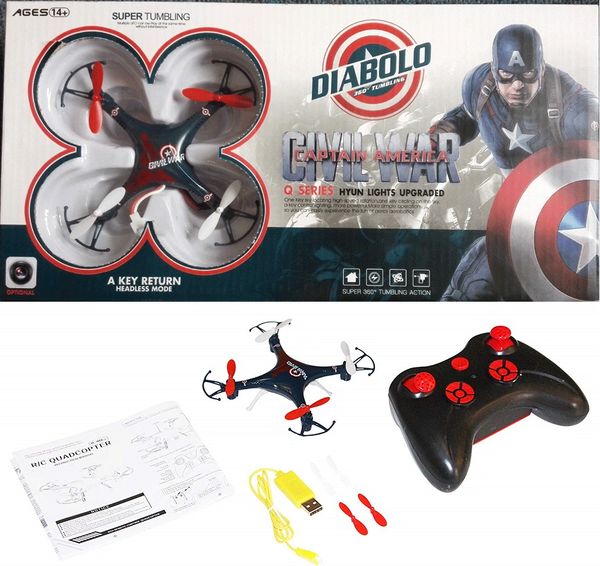 Diabolo Captain America Civil War Q Series Hyun Lights Upgraded Mini Drone Without Camera
Cash on Delivery available
₹200 Flat Discount use Coupon Code- yo2020

Product Detail:
Brand  Marvel
Type: Remote Control Toys Accessories
Material: Carbon Fibber
Battery Operated, 1 Battery
Rechargeable Batteries
Width x Height: 27 inch x 65 inch
Function: 3D tumbling action, up, down, left, right, forward, backward, a key return, headless mode, 3d flips and rolls, 6 axis gyro.
 Product Description:
Features To get your child the realistic feeling regarding the operation of a helicopter, this toy has been imputed the features of a real-life copter. For openers, it can be driven to the left, right, forward and backward as well. Flying experience is heightened with its constitutional compass that will assist them to fly the toy. It will also help them to take decisions regarding directions regardless of whichever end of the toy fronts the chosen direction. Durable ABS plastic and fine quality metal make the accincart Drone Quadcopter Electronic Toy sturdy and long-lasting. In its lower housing part, the copter has been securely placed with colored LEDs that will emit light besides signaling its actual position. There is a transmitter with two separate buttons, one for filming footage and the other for shooting. Ideal For The Accincart Drone Quadcopter Electronic Toy designed by Accincart has been brought out for the young boys. It will suit the children age 12 years and above. As it requires the ability to learn and concentrate while operating a flying object it will be suitable for children in their formative years. Additional Features In terms of speed, there are 3 different modes available. It can be operated by both beginners as well as experienced children. Extremely user-friendly, the toy comes with an On/Off button for initial ignition.
Minimum Age: 3
Built-in 4 Axis,
stronger wind resistance and more stable,
for both indoor and outdoor flight Equipped with protective frame to reduce damages due to crash.
Camera - No ,
Flying Height - 40 Mtrs ,
Flying time: 6-8 Minute,
Weight - 0.2 Kg
Keyword:
Drone, Captain America Pro Quad Flying Drone 6 Axis with 2.4 Ghz RC, Blade Guard, Headless Mode The   Captain America- drone, Captain America  drone, Captain America  drone toys r us, Captain America  drone app, Captain America  drone battery, Captain America  drone review, Captain America  drone streaming video, Captain America  drone ual, Captain America  drone with camera,Captain America  drone parts,Captain America  drone replacement parts,Captain America  drone instructions,Captain America  homecoming drone in Yoshops.com,Captain America  Captain America bot drone,Captain America  Captain America bot stunt drone,Captain America  homecoming drone camera,Captain America  drone homecoming,Captain America  homecoming drone review,Captain America  homecoming drone toy,Captain America  homecoming drone video,Captain America  homecoming drone scene,Captain America  homecoming drone toys,Captain America  homecoming sky viper drone,Captain America  micro drone,marvel Captain America  drone,Captain America- micro drone 2.4ghz 4.5ch rc quad copter,sky viper Captain America- Captain America-drone official movie edition,Captain America  Captain America drone review,sky viper Captain America- homecoming Captain America-drone review,drone radio control-Captain America ,Captain America  streaming drone,Captain America  super drone,Captain America  sky hero drone,Captain America  Captain America drone,Captain America  homecoming Captain America drone,sky viper Captain America  drone,Captain America  homecoming Captain America drone review,marvel Captain America- Captain America drone,ultimate Captain America  drone,Captain America- Captain America-drone with streaming video,Captain America  homecoming drone with no camera,