Car Charger with Dual USB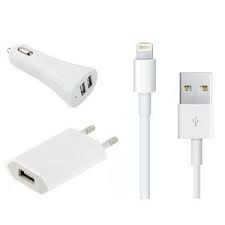 Car Charger with Dual USB
Product Detail:
Dual USB Car Charger
Full 5V/12W
2.4A for fast charging
Unique design
MFi certified
Cable Length 1.5 m
Sales Package: 1 Dual USB Car Charger & SYNC CABLE
Product Description:

high Quality material with protection Board. Full protection provided for safety. Smart power management controller with high power out efficiency.
An Apple exclusive, this Car Charger for iPhone and iPad unites elegant design with the superior quality you expect from Yoshops. It delivers up to 12W safely from your car's DC port to your iOS device. An internal smart chip registers the exact power required to charge an iPhone or iPad at optimal speed, and delivers accordingly. The result is safe, fast, and highly efficient charging.