Cheetah Construction Truck with Flash Excavator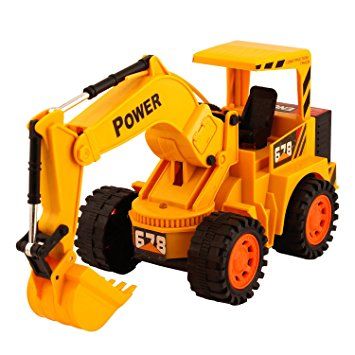 Cheetah Construction Truck with Flash Excavator
Product Detail:
Type: Tanks, Trucks & Big Vehicles
Material: Plastic
Battery Operated, 5 Battteries
Rechargeable Batteries
Width x Height: 18 cm x 20 cm
Minimum Age: 3 years
5 Channel Caterpillar
Mounter Flash Excavator
Functions : Backward & Forward, Left Turn, Right Turn, Rise Fall Digging Arm
Product Description:
Unleash the Civil Engineer in you with the Radio Controlled Excavator Truck. Featuring a 5 channel, full operation functions including a digging arm, the Radio Controlled Excavator amounts to hours of creative play for kids aged 3 years and above. Let your little child race and enjoy the thrill of speed with the Cheetah Truck from Sonic. Made from top grade plastic, this truck ensures long lasting usage. This truck features a realistic design and five channel flash excavators with bright lights. It includes rechargeable battery and charger.Remote control cheetah construction truck Flash Excavator. Full function 5 channel Flash Excavator truck which moves front, back, left and right. The arm of the Flash Excavator also moves up and down giving the kids feel of how the real thing works. Rechargeable comes with the batteries and charger inside the box. An attractive carr home box packing.