FERNWEH ORIGINALS INSTANT COFFEE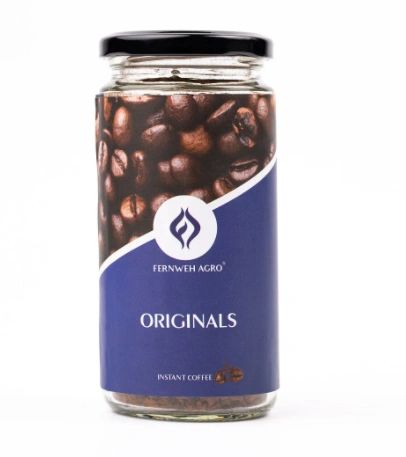 FERNWEH ORIGINALS INSTANT COFFEE
CASH On Delivery Available on above Rs.500
1.Yo-Gift Available
Buy FERNWEH ORIGINALS INSTANT COFFEE 100 gm at a price of Rs.379 from Yoshops.com
Product Detail:
100% PURE AGGLOMERATED COFFEE. CHICORY FREE
FORM: Guntur
PLACE OF ORIGIN:
Handpicked from the coffee farms of India.
ROAST: Medium Roast, Blend of Arabica & Robusta Beans
CUPPING NOTES: Slightly cocoa notes with dark chocolate taste.
BODY: Medium to the good body, fair plus acidity, fair plus aroma, sweet and round
BREWING METHOD: Add a tablespoon of coffee in 100ml of hot water and milk and Add sugar or honey as desired
Product Description:
Morning with offerings of a delicious caffeine boost. Originals Instant Coffee by Fernweh Agro is made of the finest Arabica & Robusta beans. It carries the profile of classic coffees with cocoa notes with a dark chocolate taste, a medium to good body, and fair plus aroma.Spray dried powder is further processed for granulation to get dust-free products, retaining the aroma, enhancing solubility and colour.FERNWEH COFFEES ARE ACTIVATED WITH ALL THE TRAITS OF CLASSIC CHARACTERS.Speaking to the popularity of the coffee lovers through the release of high-end quality & delectable taste offerings. A presentation of functional beverage, Originals Instant Coffee delivers a smooth and classic coffee flavor churned with prime blends of arabica and robusta beans.NO CHICORY. ONLY 100% PURE COFFEE.Originals Instant Coffee is crafted using 100% blend of Arabica and Robusta beans. It boasts a traditional consistency with features like cocoa notes and creamy chocolate flavors. Coffee lovers looking for the perfect caffeine buzz can now dive into the ease of this beverage.