Free Demo Class Live Tuitions For Std1 to Std12th CBSE board in India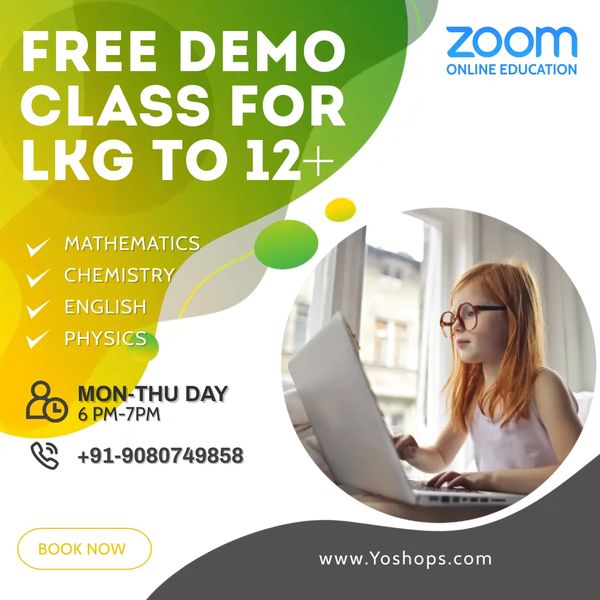 Free Demo Class Live Tuitions For Std1 to Std12th CBSE board in India
Get a free demo class for students from Std 1 to 12th of CBSE board in India with our online live tuitions. Our experienced tutors will guide you through the concepts and help you improve your grades. Experience interactive learning and get personalized attention in a virtual classroom setting. Enhance your understanding of subjects and build a strong foundation for your future. Register now for a demo class and take the first step towards academic success.

In the present scenario of online learning, the demand for quality education has increased. Many students face difficulties in learning, especially when it comes to CBSE board exams. To help students overcome these difficulties, free demo classes live tuitions for Std1 to Std12th CBSE board in India have been introduced. These classes are designed to provide students with a sample of the quality education that is offered by various coaching centres and tutors.
Live tuitions are highly beneficial for students as they provide real-time interaction between students and teachers. This helps students understand the subject matter more effectively, and they can ask questions and receive immediate feedback. Moreover, students can participate in online discussions and activities, which makes the learning process more engaging and interactive.
The free demo classes are aimed at giving students a glimpse of the comprehensive study material and the teaching methodologies that are used by the tutors. It is an opportunity for students to evaluate the quality of education they would receive if they enroll in the full course. These classes are conducted by experienced teachers who have a deep understanding of the CBSE curriculum. They help students in enhancing their skills and knowledge, and provide them with the confidence to perform well in their exams.
The classes are available for all subjects including Mathematics, Science, English, Social Science, and more. They are designed to cater to the needs of students from Std1 to Std12th CBSE board in India. The schedule of these classes is flexible and students can attend the classes according to their convenience.
In conclusion, free demo classes live tuitions for Std1 to Std12th CBSE board in India are a great opportunity for students to improve their learning skills and get ahead in their education journey. With the help of experienced teachers, students can develop their skills and knowledge and perform better in their exams. So, if you are a student looking to improve your grades and gain confidence, then sign up for the free demo classes today and take your education to the next level.