Fun Activities for Kids LKG to STD 10(Singing, Dancing, Drawing, Craft, Music, Yoga, Karate)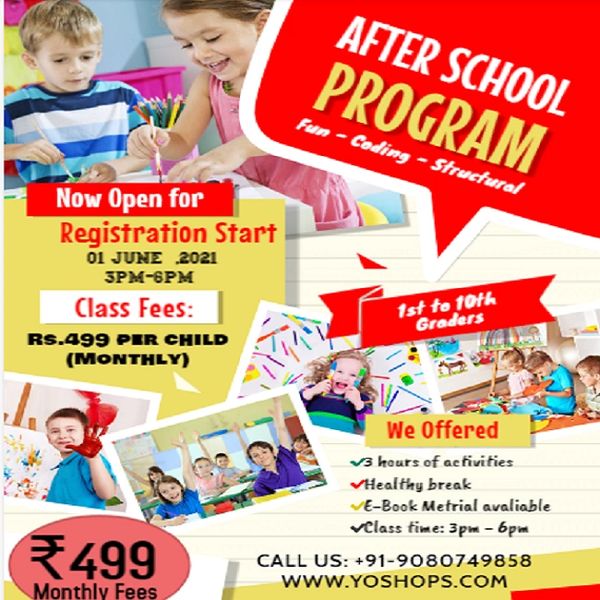 Fun Activities for Kids LKG to STD 10(Singing, Dancing, Drawing, Craft, Music, Yoga, Karate)
Welcome Kits Available
₹100 Flat Discount use Coupon Code- yo100
 Kids Grade:  LKG to STD

Online Class Detail: 

| | |
| --- | --- |
| Course Fee |  Rs.499 |
| Payment |  Monthly |
| Timings | Monday to Friday  |
| Training Modes | Online & Classroom |
Subjects we discuss:-
Drawing

Singing

Dancing

Music

Craft
Yoga
Karate


Online Class Description: 
The pre-primary stage is the foundation of child's knowledge, skills, and behavior. The completion of pre-primary education sends the child to the primary stage. Primary education is the first stage of compulsory education. It enables the children to get prepared for future higher classes. The pre-primary stage consists of Preparatory class (pre-nursery), nursery, LKG, and UKG. LKG/UKG stage is also called as Kindergarten (KG) stage. At playschools, children are exposed to a lot of basic preschool learning activities that help them to get independent faster. These preschool activities help develop in children many self-help qualities like eating food themselves, dressing up, maintaining cleanliness, and other such basic qualities. Pre-primary education has an essential part to play in every school system, though primary education in India is not a fundamental right. The age limit for admission in the nursery is 2 years 6 months to 3 years 6 months. The age limit for LKG (Junior KG) is 3 years 6 months to 4 years 6 months and for UKG (senior KG) is 4 years 6 months to 5 years 6 months.