Hammer Sting 2.0 Wireless Bluetooth Neckband Earphones Black with Long Battery Life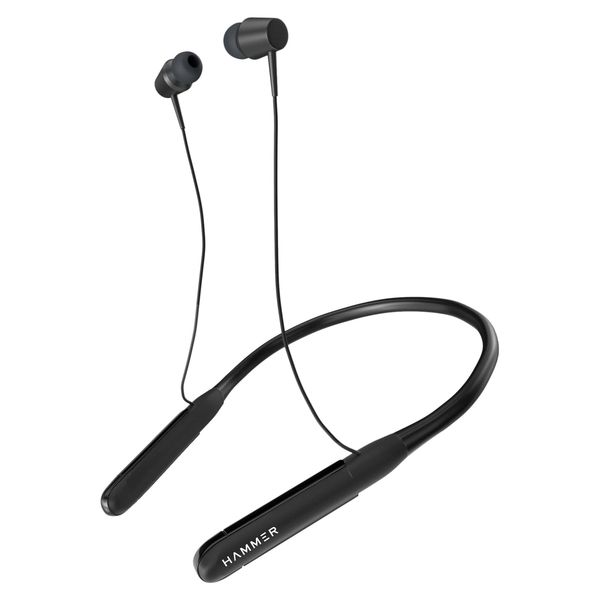 Hammer Sting 2.0 Wireless Bluetooth Neckband Earphones Black with Long Battery Life
Cash On Delivery Available
Free Shipping Available
Free One Gift Available(Wired Headset With Mic)
Use Coupon Code for 5% Discount:  Neha@gift  
Product Details:

Model Name: Sting Lite
Color: Black
Headphone Type: Neckband
Connectivity: Bluetooth
Headphone Design: Behind the Neck
Accessories :USB Charging Cable
Sweat Proof: Yes
Deep Bass: Yes
Water Resistant: Yes
Designed For: iOS/Android, Windows
Indicators: No
Controls: With multi-function Physical Button control you can play / pause music, next/ previous song, increase/ decrease volume, answer / reject calls and activate Siri / Google voice assistant.
Battery Type: Lithium Ion Polymer
Battery Life:40 hr
Battery Capacity:250 mAh
Charging Time:2
Play Time:40 hr
Standby Time:40 hr
Warranty: Domestic Warranty 1 Year
Warranty Summary: Hammer Sting Lite comes with 12 months Replacement warranty only in case of manufacturing defects. Product Registration is mandatory at Hammeronline.in within 10 days of your purchase to claim the warranty. Customer Care: Email: info@hammeronline.in & MOB: 9991 108 081
Warranty Service Type:Off Site
Product Description:

Hammer Sting Lite wireless earphone with neck band design are great for easy and comfortable use. These earphones neckband are powered by Bluetooth5.0 for quick and secure connection, it allows instant pairing with the device. These cordless earphones for mobile are IPX4 rated for sweat evidence, it isn't recommended to use these under heavy water conditions similar as rain, or swimming, it may lead to bond void. These neckband Bluetooth headphones can last up to 20 hours of music playtime at 60 volume, it varies grounded on the operation. Earphones Bluetooth wireless have 10 mm sound motorist for crisp sound. Voice Sidekicks like Siri and Google can be enabled by double clicking on the upper volume button.
Connects snappily and securely with Auto Pair Technology of the neck band headphones. You can groove to your favourite beats with its 10 mm sound motorists. Feather light design for easy portability. These neckband earphones are IPX4 rated for your long and worry- free spa sessions. With its 250 mAh battery size, you can enjoy your music for up to 20 hours.
Rearmost Bluetooth5.0 Connects snappily and securely with Auto Pair Technology of the neck band headphones



Power Bass You can groove to your favourite beats with its 10 mm sound motorists
Snipper Design Feather light design for easy portability,
. Sweat evidence These neckband earphones are IPX4 rated for your long and worry- free spa sessions
Long Lasting Battery With its 250 mAh battery size, you can enjoy your music for over to 20 hours