KING'S CLASSIC INSTANT COFFEE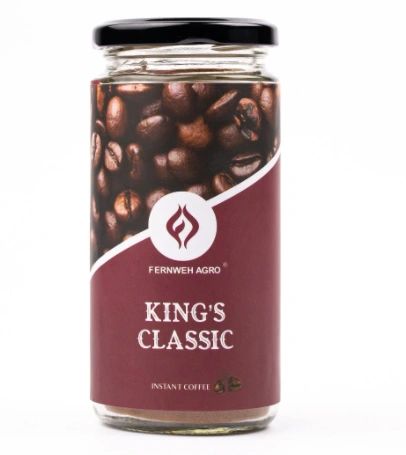 KING'S CLASSIC INSTANT COFFEE
CASH On Delivery Available on above Rs.500
1.Yo-Gift Available
Buy KING'S CLASSIC INSTANT COFFEE 100 gm at a price of Rs.249 from Yoshops.com
Product Detail:
100 % PURE SPRAY DRIED COFFEE. CHICORY FREE
PLACE OF ORIGIN: Handpicked from the coffee farms of South India.
PLACE OF ORIGIN: Handpicked from the coffee farms of South India.
CUPPING NOTES: Slightly cocoa notes with dark chocolate taste.
BODY: Medium to the good body, fair plus acidity, fair plus aroma, sweet and round
BREWING METHOD: Add a tablespoon of coffee in 100ml of hot water/ milk. Add sugar or honey as desired
Product Description:
King's Classic Instant Coffee is an invitation to all coffee lovers to indulge in coffee powder packed with nourishing ingredients. Nurse a cup of instant coffee and stride the senses with a promise of fulfilling flavors. An energizing awakening with aromatic smell, aesthetically pleasing visuals, & rich palate notes made from a special selection of Indian Coffee Beans from Fernweh Agro.A CUP OF INSTANT COFFEE AND STRIDE THE SENSES WITH A PROMISE OF FULFILLING FLAVORS.It is always a satisfying delight to have a cup of perfect coffee. And thanks to King's Classic Instant Coffee, the consumption of scrumptious caffeine in a traditional form but without the hassle of preparation is now easily possible. The undeniable love for coffees by many inspires the creation of this Indian coffee made with the finest of arabica & robusta blends. King's Classic Instant Coffee by Fernweh Agro boasts the versatility of drinking it as a hot brew or a cold brew. AN ENERGIZING AWAKENING WITH AROMATIC SMELL, AESTHETICALLY PLEASING VISUALS, & RICH PALATE NOTES MADE FROM SPECIAL SELECTION OF INDIAN COFFEE BEANS. Featuring cocoa notes with a dark chocolate taste, the product offers a delicious way to fulfill caffeine cravings without traces of unpleasant bitterness. Medium roasted, fair plus aroma, fair plus acidity, and 'medium to good' body are further, some of the other offerings of the product. Drying of extract takes place under low temperature by controlling bulk density, and color factors to retain the aroma.