KIPSTA Sports Laptop Backpack 17Liter- Grey/Yellow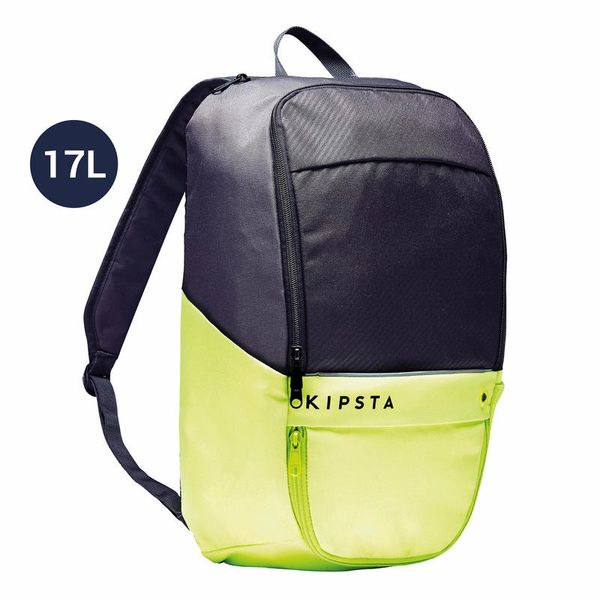 KIPSTA Sports Laptop Backpack 17Liter- Grey/Yellow
Product Description:
·         Brand: KIPSTA
·         Warranty: 10 Years
·         Product Style: KIPSTA  Sports Laptop bag
·         Parent Brand: Decathlon
·         Capacity: 17 Liter
·        We designed the comfortable Classic 17L backpack with multiple compartments to make footballers' everyday traveling easier. We developed the classic 17 L bag with a wide central compartment and other storage pockets including one for shoes.

PRODUCT DETAILS:
Gender:UNISEX ALL AGES
Sport PracticesFOOTBALL
FOLDABLE:NO
BAG TYPE:Backpack
NUMBER OF COMPARTMENTS:2 compartments
VOLUME:17 L:
Colours  : Green
Warranty2 Years
DesignThe idea for this bag came to us after observing young players pitch side or on their way to training. We subsequently developed this bag in a suitable size and equipped with practical pockets like the shoe pocket or the bottle holder.
Dimensions and weight.Bag dimensions: 43x27x14 cm The bag weighs 245 grams
Storage adviceStore in a dry, dark place.
Tested byJerk test (repeated heavy weight resistance), traction test on the fabric and assembly.
CompositionLining : 100.0% Polyester (PES) Main fabric : 100.0% Polyester (PES) Coating : 100.0% Polyurethane - Coating.