LED Bulb Combo Pack 12W Pack of 5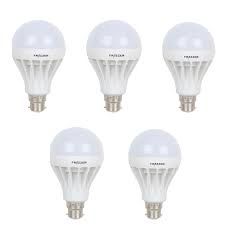 LED Bulb Combo Pack 12W Pack of 5
Product Details:
Pack of: Pack of 5
Power (in Watts):12W
Base Type: Pin B22
Product Description:

Overview
Those looking for bulbs for their living or dining space, bedroom or kitchen may opt for this AV Virgin Plastic LED Bulb Combo Pack. Brought to you by Snapdeal, these bulbs are divided into 2 packs of 5 with different power consumption capacities. They have a power consumption rate of 12W and 15W for every 5 bulbs.
Specifications and Design

With a frequency rate of 50GHz at 210-265V, these bulbs have clear illumination capacity. Each of the bulbs has an efficiency of 100 Lumen that helps in increasing their luminosity to a good extent. These white coloured bulbs are made of virgin plastic. The B22 base type moreover makes them easier to fix on compatible sockets. The cool white light looks brighter and does not heat up the bulbs.
Utility

With up to 60 per cent of energy saving, this AV Virgin Plastic LED Bulb Combo Pack ensures a steady reduction on electricity bills. They are devoid of lead or mercury, which makes them eco-friendly. Their compact design also makes them an ideal pick for residential or commercial areas, hospitals offices and schools, hotels and restaurants and so on.