Micromax 20B22HD-A 50 cm (20) HD Plus LED Television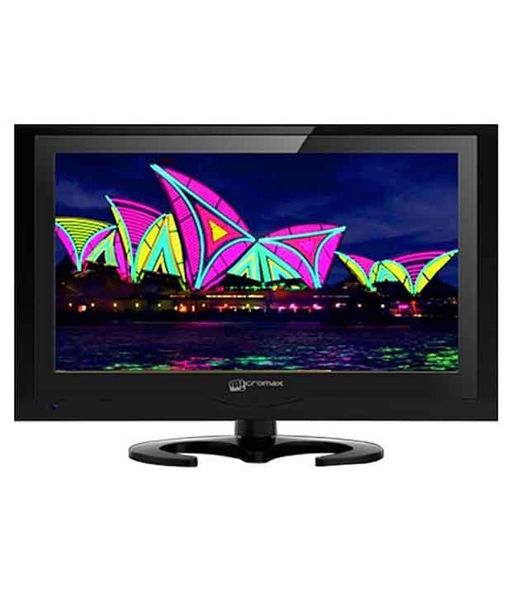 Micromax 20B22HD-A 50 cm (20) HD Plus LED Television
Product Description:
Type : LED
• Display Resolution : 1600x900
• Connectivity : 1 X HDMI & 1 X USB
• Warranty : 1 Year Micromax India Warranty
• Screen Size : 50 cm (20)
• Refresh Rate : <100 Hz
• SUPC: SDL577167142
Product Details :
In today's world, television no longer exists as a luxury item but rather as a basic necessity. There is a wide range of TVs to choose from depending upon the dimension of your room. Micromax has started launching a range of televisions that will provide nothing less than what you deserve. This television features an HD Ready display that enhances your overall experience making every movie or TV show a memorable one. You can buy this product at an affordable price on Yoshops.com.
Product Specification :
GENERAL
Model Name 20B22HD-A
Screen Type LED
Display Size 50 cm (20)
Display Feature
Screen Resolution 1600 X 900
In the box LED TV, User Manual, Warranty Card
VIDEO
Aspect Ratio 16:9
Dynamic Ratio 3000000:1
View Angle 30
Refresh Rate <100 Hz
Video Additional No Video Additional
AUDIO
Speakers 2
Sound Output 20W
Sound Technology Equalizer 120Hz, 500Hz
Audio Additional Analog Tuner, Color Control, Comb Filter
CONNECTIVITY
HDMI One
USB One
Composite Video Input Yes
Component Video Input Yes
Audio Out Yes
Headphone Out 1
Other Connections No Connection
INTERNET & APPS
Ethernet NO
Wi-Fi NO
Applications Zero Dot High Definition
Internet Additional None
PLAYBACK FORMATS
Video Playback Formats Analog Tuner, Color Control, Comb Filter
Audio Playback Formats Auto Volume Leveler, 5 Band Equalizer, Analog Tuner
Picture Playback Formats JPEG
Playback Additional None
POWER
Power Supply 90-240 Volt AC 50/60Hz
Power Consumption 30Watts
DIMENSIONS & WEIGHT
W x H x D (Without Stand) 532 x 45 x 337
W x H x D (With Stand) 532 x 186.2 x 376
Weight with Stand 5kg
Weight without Stand 3.70kg
Display Type
The Micromax 20B22HD-A 50 cm (20) HD Plus LED Television has an LED display which has a vast range of advantages over other display types. LED stand for Light Emitting Diodes and the panels using this technology are exceptionally lightweight, energy efficient and capable of producing remarkable picture quality. Apart from the LED technology, this television has a full HD display which enables you to enjoy high definition content without any lag in performance. This TV has a Zero Dots LED Panel which is a 100 percent zero bright dots technology responsible for delivering clear pictures.
Screen Size
The Micromax 20B22HD-A 50 cm (20) HD Plus LED Television features a 50 (20) display which makes it ideal for your living room and bedroom. The size of this TV is suitable for small apartments as it does not take up much space and can be installed without any hassle. You can place this TV on a stand or simply mount it on the wall. The size also makes it convenient to move from one place to another.
Display Resolution
Although this TV from Micromax has a small display, it still offers an HD plus resolution of 1600 x 900. This resolution provides a decent viewing experience making it suitable to watch all your favorite movies. It has an aspect ratio of 16:09 along with a contrast ratio of 3000000:1. With a view angle of 30 degrees, you will love watching your shows from any angle you wish. Apart from these, the display has a refresh rate of less than 100 Hz which helps in providing utmost clarity.
HDMI and USB Ports
With the Micromax 20B22HD-A 50 cm (20) HD Plus LED Television, you will get various connectivity options such as HDMI and USB ports. There is 1 HDMI port on this television which will allow you to connect your laptop or set top box and view the content on your television screen. There is 1 USB port which allows you to connect your USB devices such as pen drive or external hard drives to play movies and other media from. This TV supports multiple media formats be it videos, music or images.
Audio Capability
One of the unique features in this TV is the speakers. Although it is small in size, it packs in a punch when it comes to the sound. The Micromax 20B22HD-A 50 cm (20) HD Plus LED Television features 2 x 10W speaker has an incredible sound that will leave you impressed. The sound can be accustomed as per the requirements and desire of the user with the click of a button. This sound system has a 120Hz and 500Hz Equalizer which allows the user to adjust the sound output depending on the type of content being viewed. This TV also comes with Auto Volume Leveler, 5 Band Equalizer and Analog Tuner for enhanced sound customization.
Power consumption
Micromax 20B22HD-A 50 cm (20) HD Plus LED Television functions on an alternate current power supply of 90 to 240 Volts with a frequency of 50 to 60 hertz. It has a power consumption of 30Watts which is ideal for low electricity consumption. With this configuration, you will experience a reduction in your electricity consumption and thereby save money every month on your electricity bills.
Additional Features
In this television, you will find many pre-installed games that you can indulge in when you are not watching movies or cable. The Micromax 20B22HD-A 50 cm (20) HD Plus LED Television also features audio and video connectivity options such as composite video input, component video output, audio out and headphone out.