Microtek Fingertip Pulse Oximeter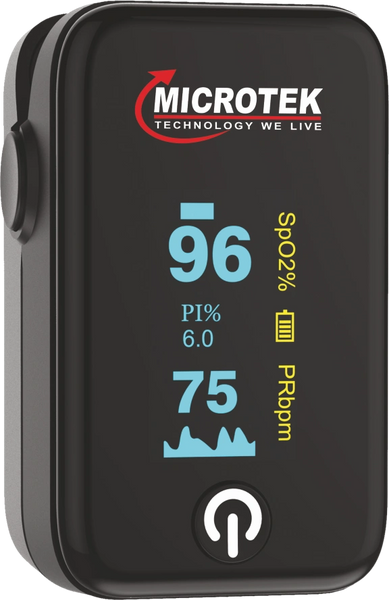 Microtek Fingertip Pulse Oximeter
Product Detail:
Type:Fingertip Pulse Oximeter
Operational :LED Lights
Package Dimensions : 15 x 10 x 5 cm; 200 Grams
Item model number : Oxy Meter
Country of Origin : India
Item Weight : 200 g
Net Quantity :1
Product Decscription:
OXIMETER Fingertip Pulse Oximeter may be a quick and precise thanks to check pulse (PRbpm), Blood Oxygen Saturation Levels (SpO2%), and Perfusion Index (PI%). The comfortable silicon padded ?nger clamp plus simple one-button design allows for straightforward operation. alittle portable size makes it convenient to use and carry. It are often used reception for effective and accurate pulse monitoring, especially during this critical time of COVID -19 where pulse monitoring and oxygen level of the patient is to be monitored regularly.
PULSE OXIMETER & pulse MONITOR – Medical supply reliably measures through fingertip arterial oxygen saturation (SpO2) and pulse (pulse).
STAY ON TOP OF YOUR HEALTH – Regular monitoring of blood oxygen saturation & pulse becomes crucial when staying on top of your health, either due to heart problems, pulmonary diseases or asthma or just during strenuous sports activity.
EASY TO USE – the heart beat Oximeter, PO30 is straightforward and practical to use, because the device provides an outsized colored display with adjustable brightness and orientation, 4 graphic display formats, auto switch-off, and low battery indicator.
Water resistant: note product is meant to face up to accidental splash of water. Increasingly higher depths of water will render the merchandise unusable. Product is waterproof and not water proof
Measures quickly and accurately pulse and O2 blood oxygen saturation of arterial hemoglobin levels.
Pulse oximeters can assist you monitor the oxygen saturation of hemoglobin within the blood non invasively. Measuring oxygen saturation is as important as measuring pulse and hence pulse oximeters are valuable piece of equipments which will help decide oxygen flow. performing on the principle of photodetection, the heart beat oximeters emit infrared rays to detect the oxygen saturation in blood. Microtek has come up with smart pulse oximeters that assist you keep a check on the trend. Understand more about how they work here: Pulse Oximeter Principle and PI.