Mini VR BOX Virtual Reality Headsets with ultra 3D glasses Compatible with Android and IOS Devices (Blue, Black)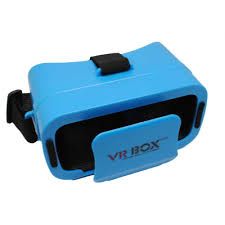 Mini VR BOX Virtual Reality Headsets with ultra 3D glasses Compatible with Android and IOS Devices (Blue, Black)
CASH On Delivery Available
1.Yo-Gift Available
Buy Minions Mini VR BOX at the price of Rs.999 from Yoshops.com
Product Detail:
Brand: Yoshops
Model no: MINIVR01
Display Type:Curved Based
Suitable For:Gaming, Entertainment, Functional
Color: Blue
Compatible Eye: Both
Resolution:3D
Platform Features: Compatible OS, Android,IOS
Product Description:
The VR BOX case Mini brings you wonderful experience of watching 3D movies and playing 3D games 2.Materials: Uses ABS and 42 mm spherical resin lens material without stimulation plastic sheet 3.Offers you super 3D picture effect and wonderful feeling 4.Simulating viewing distance: provide you with a 1000 inches big screen at the space of 3m 5.Easy to place your smartphone into the 3D glasses ( Easily pull the smart phone storage box out, the put your smartphone in it ) 6. Perfectly suitable for your face once you wear the VR BOX 3D Glasses 7.Flexible and adjustable headband is suitable for various people 8.You will not feel visual fatigue and dizziness even you employ it for an extended time due to the resin lens 9.Adjustable pupil distance and sight distance, satisfying different groups of individuals, optical AxisSliding control operation, you'll slightly adjust the position of the spherical resin lens through moving, the button on the highest of the VR BOX 3D Glasses. so on get a far better experience of watching movies 10. Greatly enjoy a personal visual feast comfortably and convenient to use, allowing you to watch at anytime anywhere whether sitting, lying or standing as you wish, it's an excellent companion for traveling or staying reception 11. Suitable for nearly all types of smartphones ( Android / IOS, etc) that screen between 4.5 -- 6.0 inches 12.With a compact portable design, easy to hold.