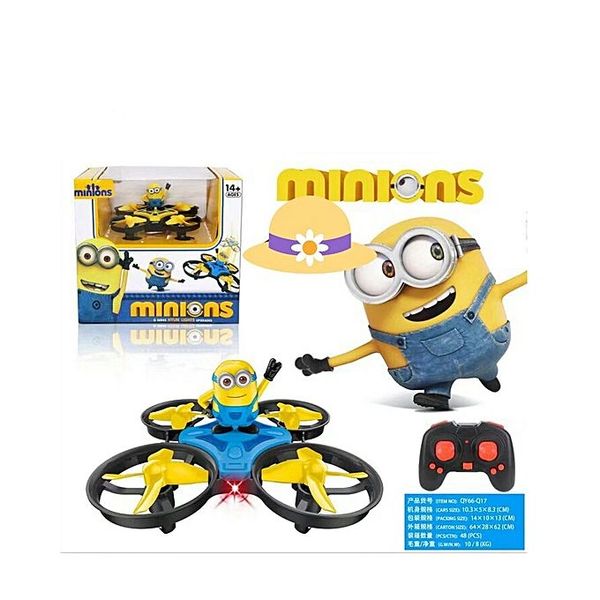 Minions Mini Drone
Cash on Delivery available
₹200 Flat Discount use Coupon Code- yo2020


and Shopping to win prize everyday.
Product Detail:
·         Brand  Minions
·         3.7v 220mah battery
·         USB charger
·         2.4ghz controller system
·         Shipping Weight (kg)  0.5

·         Led light
·         360°degree 3D flip
·         charging time 45min
·         flying time 7-9min 
 Product Description:
Minions Mini Drone 2.4GHz 4.5CH RC Drone! At just over 3 inches long, this little guy packs a big punch. With its built-in gyro stabilisation and 3D flight capability, you get an amazingly smooth flight that is easy to control for every skill level.
·         LED Lighting
·         Just Over 3 Inches in Size
·         Fly Upto 6Ft
·         A Key Return
·         Headless Mode
·         Colour Red And Blue
·         Main Material Plastic
·         Warranty         No Warranty
Keyword:
minions drone, mini drone minions, drone minions Mercado liver, drone dos minions, drone infantile minions,drone les minions,minion drone,minion drone,minion drones vector,minion drone sensor tang-an,flying minion drone,minion masters drone force one,minion rush drones,minion rush vector drones,minion rush throw drones at vector,minion rush throw drones,drone minion murah,minion drone toy,minion mini drone,harga minion drone,Tainan minion drone,Jubal drone minion,minion sensor control drone helicopter,drone de minion,minion flying drone.