Mions Mini Skateboard for Kids with Skating Kit(helmet+elbow+knee)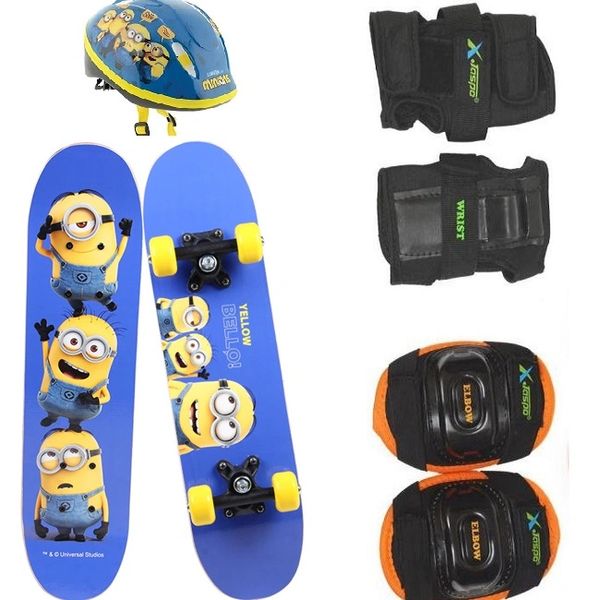 Mions Mini Skateboard for Kids with Skating Kit(helmet+elbow+knee)
CASH On Delivery Available
1.Yo-Gift Available
Buy Minions Mini Skateboard for Kids with Skating Kit at a price of Rs.999 from Yoshops.com
Product Details:
Brand Yoshops
Deck Width 5 Inches
Material Wood
Deck Length 17 Inches
Attarctive & Colorfu 3D Graphics On The Board
Excellent & Smooth finish
High quality ball-bearings for a smooth ride
Ideal For Unisex
Batteries Included No
Size Small
Sport Skateboarding_and_skating
Style Skateboard
Country of Origin India
Product Description:
Yoshops offers to you a good range of top quality indoor and outdoor sports accessories. This brand may be a genuine manufacturer of sports items. This skateboard may be a perfect choice for any skating. it'll assist you to perform your first tricks within the skate park. made up of premium quality material, this skateboard has softer bearings. it's harder wheels which can last longer and excellent for street skating. Many Items Are Designed To function Toys, But Goods Produced For Other Purposes also can Be Used.17 x 5 inches skateboard is all about fun, an incredible move around
PERFECT FOR BEGINNERS - an entire wood skateboard deck recommended for youngsters aged 3 to five years old.A great skateboard for the beginner skateboarder within the family! Skateboarding is fun and not fun like playing a computer game is fun - skateboarding is that deep quiet fun that gets down into your gut. Skateboards are available in all shapes and sizes and, of course, riders progress through different skill levels. Remember that riding a skateboard may be a fun activity for both boys and girls, this Girl Mini Skateboard will keep the youngsters outside and active and that they will certainly make plenty of new friends. Everybody possesses to start out somewhere. this is often perfect for youngsters from the ages of 3-5 who haven't spent an excessive amount of time on a skateboard yet but are able to work on the fundamentals like learning to face on the board and ride comfortably without falling down and managing your center of gravity. the instant where your child starts to become easier pushing off together with his or her foot and balancing atop their board as he or she rides - you're getting to fall crazy with watching your children use this board. Skateboarding will challenge your kids in new ways and teach them a replacement skill set. It sounds cheesy, but believing in yourself and understanding how powerful you actually are is important! Our vibrant board colours and wheel colours mean that they're going to look so cool riding around the block. This skateboard will arrive completely assembled able to use which will be easily carried around during a backpack! The concave, tapered shape, rounded kick tail & nose provides versatile performance for the rider! The 'parts' of a skateboard contains the 'deck', the 'trucks', the 'wheels', and therefore the 'bearings'. All parts are available a spread of specifications, including shape, size, softness, and flex. The skateboard is a perfect size and can be durable. CRUISE AROUND TOWN a la mode - The concave, tapered shape, rounded kick tail & nose provides versatile performance for the rider! These boards are getting to make all the opposite kids on the block jealous!
PERFECT GIFT- Ideals as a present for boys or girls who have an interest in outdoor play and love extreme sports.