Olifair Active Light Sunscreen SPF30 - 50 ml (Free Riya Fruity Soap)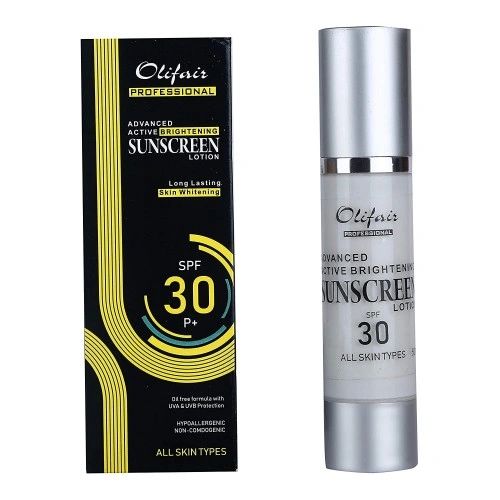 Olifair Active Light Sunscreen SPF30 - 50 ml (Free Riya Fruity Soap)
Cash On Delivery Available
Free Shipping Available
Free One Gift Available(Free Riya Fruity Soap )
Use Coupon Code for 5% Discount:  Neha@gift  
Product Details:

Brand: Olifair
Model Name: Active Light Sunscreen SPF30
Quantity: 50 ml
Skin Type: For Healthy Skin, Oily Skin, Dry Skin, All Skin Types
Applied For
Fairness, Replenishing & Rejuvenation, Radiance & Glow, Skin Lightening, Skin Whitening, Skin Brightening, Spot Removal, Cleansing, Anti-marks
Pack of 1 = 1 pc
Maximum Shelf Life:36 Months

Ideal For: Men & Women
Organic Type: Synthetic
Product Description:

Olifair 

Active Light 

Sunscreen SPF 30 Lotion

 

introducing oil free fast absorbing multi-care daily sun screen lotion with carefully selected sun screen agents, Vitamins and Natural nutrients to best protect your skin from damaging UVA & UVB rays thereby preventing pre mature ageing and skin darkening.Olifair 

Active Light 

Sunscreen SPF 30

 Broad spectrum protection from UVA & UVB rays using the safe mineral Zinc Oxide - No Oxybenzone

, 

Octinoxate 

or other chemical active sunscreen agents.Protects from the sun uv rays Oil free Absorbs fast in the skin Prevents premature aging Prevents from skin darkening Hypo allergic Non-comedogenic For all skin types unisex.

Clean and remove extra oil, dirt, dead skin cells and acne, removing blackheads, tightens skin pores that'll give visible results.tivated Charcoal bleach help to reduce acne and detoxifies skin.
Direction For Use: Empty the powder of the mask into a bowl. Add activating gel to make smooth paste stirring vigorously. Apply on the face or on body within 3-4 mins. Leave for 20- 30 minutes. To remove release the mask from the edge and then remove a single piece.



Enrich your skin by reducing the formation of wrinkles and sagging, that'll give your skin an instant glow.
Easy to use | Unisex ( Made in India )
Face Wash
Wanna Get Glow! Wash off that dirt and dust with our Gold Radiance Face Wash and Get. Set. Glow.
Day Cream

Follow the face washing with the Oilfair Skin Lightening Day Cream. It helps bring the inner glow out and even the skin tone.
Mask Up!

Once a week, take special care of your skin with our Gold Mask and see the magic happen on your skin.