Olifair Charcoal Whitening Soap 120 gm(Riya Fruity Soap Free)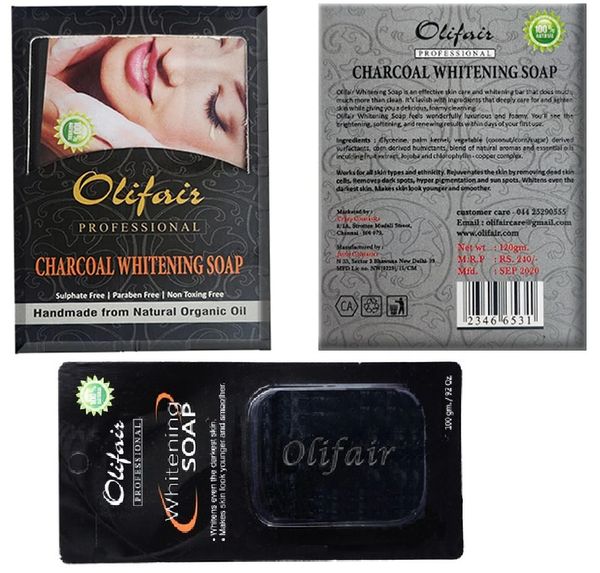 Olifair Charcoal Whitening Soap 120 gm(Riya Fruity Soap Free)
Cash On Delivery Available
Free Shipping Available
Free One Gift Available
Use Coupon Code for 5% Discount: Neha@gift  
Product Details:

Brand: Olifair
Name: Charcoal  Whitening Soap (Pack of 2)
Quantity:120 g
Pack of 1
Organic: Yes
Organic Anti-septic Soap
Skin Friendly
Use For: Men,Women
Skin Type: All Skin Types
Maximum Shelf Life:24 Months
Application Area: Body
Composition: Glycerine, Saponified, coconut, palm corn derived humectants, saffron, chlorophyllin- charcoal complex
Colour: Black
Type: Anti-septic Soap
Fragrance: Charcoal 
Included Items: 1 Charcoal Soap
Country:INDIA
Product Description:
Benefits:
Deep cleanses skin pores
Controls oil & removes dirt
Provides natural glow
Leaves skin clean & clear 
Olifair Charcoal Whitening Soap is an efficient skin care and whitening bar that does far more than clean. it's lavish with ingredients that deeply look after and lighten skin while supplying you with a delicious, cleansing. 
Olifair Charcoal Whitening Soap feels wonderfully luxurious, you will see the brightening, softening, and renewing results within days of your first use. Fragrance: charcoal, coconut, jojoba for all Skin Types Men, Women, Boys, Girls body soap.
Face Wash

Wanna Get Glow! Wash off that dirt and dust with our Gold Radiance Face Wash and Get. Set. Glow.
Day Cream.


Follow the face washing with the 
Olifair Whitening Soap

. It helps bring the inner glow out and even the skin tone.
Mask Up!

Once a week, take special care of your skin with our Gold Mask and see the magic happen on your skin.