Olifair Gold Radiance Face Wash for All Skin Types - 50 ml(Riya Fruity Soap Free)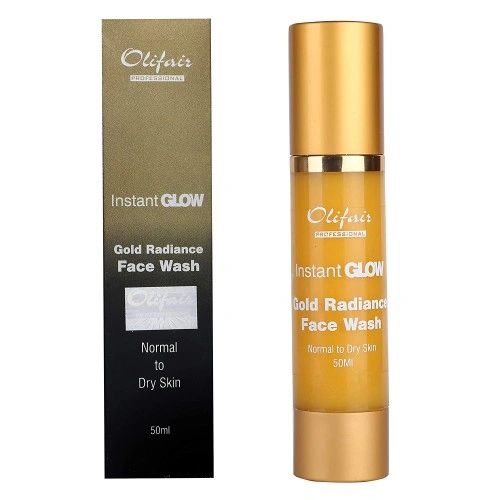 Olifair Gold Radiance Face Wash for All Skin Types - 50 ml(Riya Fruity Soap Free)
Cash On Delivery Available
Free Shipping Available
Free One Gift Available
Use Coupon Code for 5% Discount:  Neha@gift  
Product Details:

Brand: Olifair
Model Name: Gold Radiance Face Wash
Quantity: 150 gm
Skin Type: For Healthy Skin, Oily Skin, Dry Skin, All Skin Types
Applied For
Fairness, Replenishing & Rejuvenation, Radiance & Glow, Skin Lightening, Skin Whitening, Skin Brightening, Spot Removal, Cleansing, Anti-marks
Pack of 1 = 1 pc
Maximum Shelf Life:36 Months

Ideal For: Men & Women
Organic Type: Synthetic
Product Description:

Olifair Gold Radiance Face wash is an effective daily facewash that helps you discover clear, radiant and even complexion. It is enriched with pure natural essence that cleanses and clarifies skin to remove impurities that make skin dull. Olifair Gold Radiance Facewash effectively cleanses while replenishing moisture deep down for beautiful conditioned skin.It contains a nourishing beauty serum that replenishes skin from deep within giving it a beautiful bounce.

Gel based face wash for boys

Anti-aging and Anti-dullness face wash

Reduces skin oiliness and refines skin pores

Deeply cleanse the skin and removes all dirt

Formulated for all skin types
Made from activated charcoal, Tea Tree Oil, Premium quality ingredients and that'll give you the best quality products.
Clean and remove extra oil, dirt, dead skin cells and acne, removing blackheads, tightens skin pores that'll give visible results
Activated Charcoal bleach help to reduce acne and detoxifies skin.


Enrich your skin by reducing the formation of wrinkles and sagging, that'll give your skin an instant glow.
Easy to use | Unisex ( Made in India )
Face Wash
Wanna Get Glow! Wash off that dirt and dust with our Gold Radiance Face Wash and Get. Set. Glow.
Day Cream

Follow the face washing with the Oilfair Skin Lightening Day Cream. It helps bring the inner glow out and even the skin tone.
Mask Up!

Once a week, take special care of your skin with our Gold Mask and see the magic happen on your skin.