Ozomax Sleek Travel Iron (Purple,Red)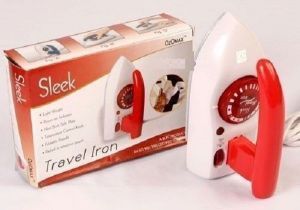 Ozomax Sleek Travel Iron (Purple,Red)
Product details
Brand Ozomax

Model Sleek
Type Dry
Color Red,Purple
Body Material Plastic
Corded Yes
Swivel Cord Yes
Indicator Light Yes
Temperature Control Yes
Technical
Sole Plate Type NonStick Coated
Weight 0.35 kg

Height 170 mm
Width 116 mm
Depth 54 mm
Warranty Period 6 Months Manufacturer Warranty
Product Description

OZOMAX Sleek Travel Iron is manufactured in a manner to make it appropriate for traveling.These irons have a sleek appearance and its foldable handle makes it portable & convenient carry.Compact and perfect traveling. Don't miss the opportunity to wear ironed clothes even when you are away from home.If you want to iron your clothes with perfection and that too in no time, you must go for this Ozomax Travel Iron. This portable dry iron is made of durable plastic and has a non-stick coated base for easy usage. It has a compact design and a foldable handle that allows it to be stored and packed with ease.
Non-Stick Coated Sole Plate
This Ozomax iron has a non-stick coated soleplate for easy movement and enhanced usage. It will help the iron glide smoothly against the clothes.

Thermostatic Control

With this iron, you can opt for a variety of temperature settings for different fabrics. You can select either silk, cotton rayon or linen. This thermostatic control feature will therefore ensure that you are able to iron without worrying about your clothes getting burnt.

Lightweight

Since it is a travel iron, it is extremely light and absolutely portable. Its handle can be easily folded so that you can carry it with ease. You can travel anywhere with this iron and pack in a small bag as it is also compact in size.
 Other Paramount Features

The Ozomax Travel Iron is light purple in color. It has a power on indicator light, an easy to use temperature control knob and a sleek design that makes it worth a buy.