Pluto Programmable Smartphone Controlled Nano Drone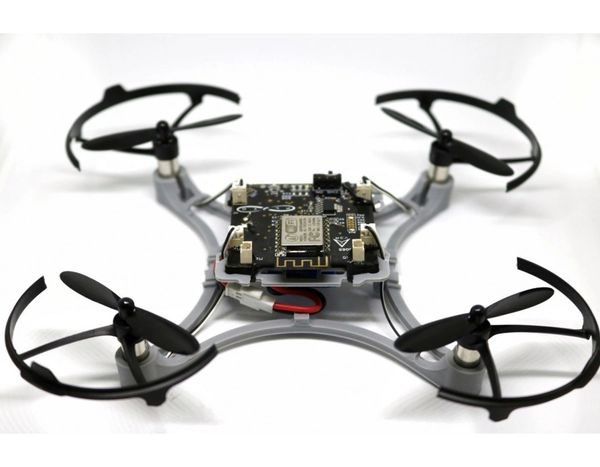 Pluto Programmable Smartphone Controlled Nano Drone
Cash on Delivery available
₹200 Flat Discount use Coupon Code- yo2020


and Shopping to win prize everyday.
Product Detail:
Dimensions: 15 x 15 x 9 cm
Item Weight: 54.4 g
Battery: 1 Lithium Polymer battery
Colour: Black
Speed: 3 m/s
Flight time: 7+ minutes
Maximum range: 80 m
Flight mode: Alt hold
Charging time: 45 minutes
Control: Smartphone
App features: Real Time Sensor Graphs, Different Modes of Flight and Trim inputs
Flight Controller: Primus V3R
Motors:
Wifi connectivity
Download Pluto controller app
Easy to fly
Rugged
Wireless programming
Product Descripition:
Pluto Nano drone  for educational experimentation usage because of its DIY design. It encourages a creative approach and a problem-solving attitude among its users and unique and interesting results can be achieved by those who try to explore different possibilities with it. Pluto is a user-friendly, durable, rewarding and entertaining nano-drone and every pilot and owner bears testimony to this. Whether they buy it as their first drone, for experimentation or just for fun, Pluto delivers all these qualities without any compromises also world's smallest quadcopter.  It's an easy-to-build DIY that is very durable and can survive multiple insane crashes. It is easy to control using the Pluto Controller App on your Smartphone and can be customized or modified easily. It is very easy to fly, you just have to download Pluto controller app in your smartphone and fly it like a pro. It is durable, lightweight with 50 g and spares are easily available. Its long flight time is 7+ minutes and can be charged within an hour. The app notifies every time when it ran out of battery.
KeyWord:
pluto drone,pluto drone programming,pluto dronein yoshops,pluto drone parts,pluto drone Yoshops.com,
pluto drone workshop,pluto drone flying,pluto diy drone kit,buy pluto drone at lowest price Rs.5999 in yoshops.com,pluto drone price,drone aviation pluto
pluto drone kit,pluto nano drone,drone on pluto,drone sent to pluto,drone to pluto