Preethi Armour 1.0L Electric Kettle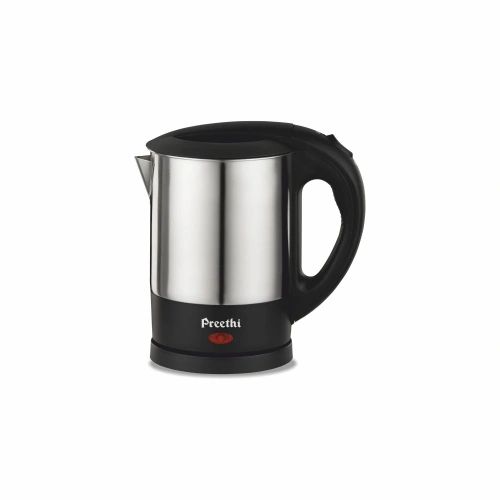 Preethi Armour 1.0L Electric Kettle
Product Detail:
Brand: Preethi
Type: Electric Kettle
Model:Armour - EK707
Color:White
Capacity : 1L-2.0L
Washable : Yes
Body : Steel
From the Manufacturer
Kettle lifts off the corded base for safe and easy use
Auto shutoff when water reaches boiling point
Power on light and locking lid for safety
Water level gauge
Capacity: 1.8 liters
Warranty: 1 year on product
Power: 1500 watts; Operating Voltage: 240 volts
Includes: Kettle, Power base, Instructional manual, Customer care list and Warranty card
Customer service number: 9940000005
SALIENT FEATURES
1350 Watts of Power for Rapid Boil
Armour boils water in just 4 minutes!
Kettle Lifts Off the Corded Base for Safe, Easy Use
Putting water in and pouring it out are so much easier, The wider mouth and spout filter keeps water poured out to flow uniformly without much spillage.

Auto Shutoff When Water Reaches Boiling Point
This built-in safety feature ensures that the Armour will never overheat or boil over, which could damage the kettle.

Power On Light and Locking Lid for Safety
With many kettles, you can't tell if they're hot except by touching them (ouch!). When the Armour power light is on, you'll know just by looking. The locking lid is another great safety feature: it prevents accidental spills while you're pouring.

Water Level Gauge
A clear marking on the inner sides of the kettle tells you the quantity when water is poured in.

1-Year Warranty and Life Long Free Service
The Armouris made of durable, brushed stainless steel for dependable quality and service. It is backed by a 1-year warranty and life long free service.

SPECIFICATIONS
Model No. : Armour 1.0 – EK 707
Voltage: 230V AC 50 Hz
Power Consumption: 1350 Watt

Capacity: 1.0 Litre
Material of Body: Stainless Steel

Weight: 0.8 Kg (Approx)