Preethi Eco Chef Neo Mixer Grinder 500 Watts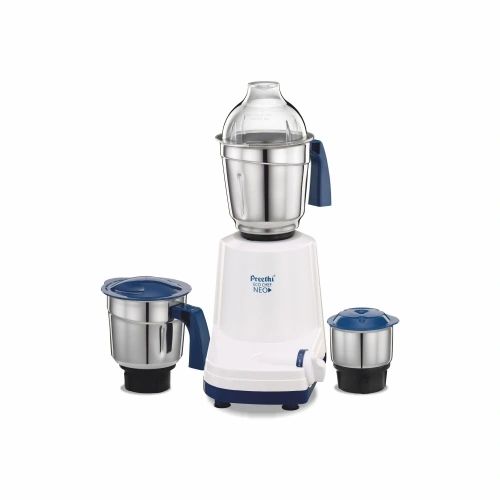 Preethi Eco Chef Neo Mixer Grinder 500 Watts
Product Detail:
Brand:

Preethi

Type:   Mixer Grinder

3-speed grinding operation

Power: 500 watts; Operating voltage: 230 volts

Warranty: 5 years on product


Product Detail:



Preethi Eco Chef Neo Mixer Grinder is contemporary, easy to use and also efficient. If you are yet to upgrade and improve the quality of the kitchen, look for the Preethi mixer grinder. This stylish mixer grinder is sure to give your kitchen a makeover! With a 500 Watt motor and super sharp blades, the Preethi Eco Chef Neo mixer grinder offers high efficiency. It has 3 stainless steel jars with PP lids. All the three types of jars come with super sharp blades attached and they are used for dry and wet grinding. You can easily clean the jar and blade by filling ½ a liter of water along with a basic cleaning powder. Preethi establishes itself as the top supplier of mixer grinder and other kitchen appliances.

SALIENT FEATURES
500 Watt Motor
Motor coupled with floor breaker Jar enables fine grinding
Machine Ground and Polished Blades for quick grinding
Safety
Shock Proof ABS Body
Heat Sensitive cutoff for protection against voltage fluctuation and overload
Reliability
High-Grade Nylon Couplers for smooth trouble free usage
Lifelong free service and two year Guarantee
JAR CONFIGURATION
 
 
Rated Capacity
Jar Type
Jar Capacity
Dry Grinding
Wet Grinding
Main Jar
1.5 L
0.7 L
0.5 L
Middle Jar
1.0 L
0.5 L
0.4 L
Chutney Jar
0.3 L
0.2 L
0.2 L

ACCESSORIES

SPECIFICATIONS
Model No. : Eco Chef Neo- MG 199
Voltage: 230V AC 50 Hz
Power Consumption: 500 Watt
Motor: Universal 500 Watt High Power Motor
Material of Body: A.B.S
Material of Jars: Stainless Steel 

Blade Assemblies: Stainless Steel, Machine Ground, and Polished
Speed Controls: Rotary Switch with 3 Speed and Pulse
Flex Cord: PVC insulated 3 Core, Flexicord with Plugtop & earthing