Preethi Trendy Plus Induction Cooktop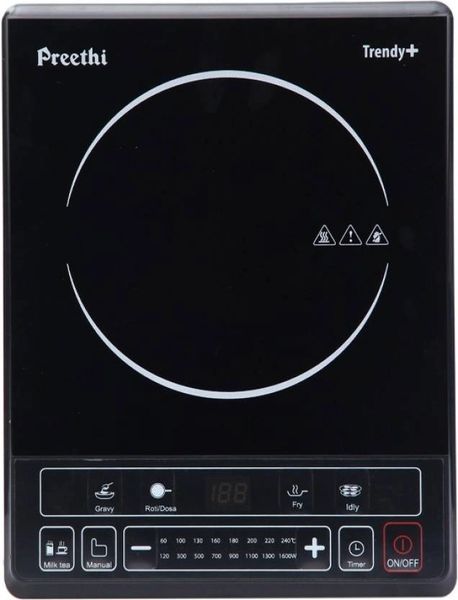 Preethi Trendy Plus Induction Cooktop
Product Detail:
Brand: Preethi
Model_name: Trendy plus
Model: Trendy Plus IC 116
Type: Induction Cooktop
Color: Black
Features: ControlPush Button
Frequency:50 Hz
Power Consumption:1600 W
Power Input:230 V
Automatic shut-off: guarateeYes
Warranty:1-year guarantee
In The Box:1 Unit, Warranty Card, Manual Book
Type: Induction Cooktop
Power Consumption: 1600 W
Color: Black
Push Button Controls
Services:1 year product guaratee
Product Description
Now you can prepare delicious dishes even without a stove, thanks to the Preethi Trendy Plus IC 116 Induction Cooktop. Show off your culinary skills to your family as you serve a variety of dishes.
Power Efficiency
With this Preethi Induction Cooktop, you can save up to 4 times more energy when compared to other cooktops. The pre-programmed settings, with automatic shut-off feature, help reduce the consumption of power to a large extent.
Faster Cooking
Unlike gas stoves which will take a lot of time to heat up the utensil, this induction cooktop transfers 84% of heat to the cooking vessel. This helps minimize heat loss and reduces cooking time.
View all features
Specifications