Preethi X Pro Duo 1300 Watts Mixer Grinder Color(Purple)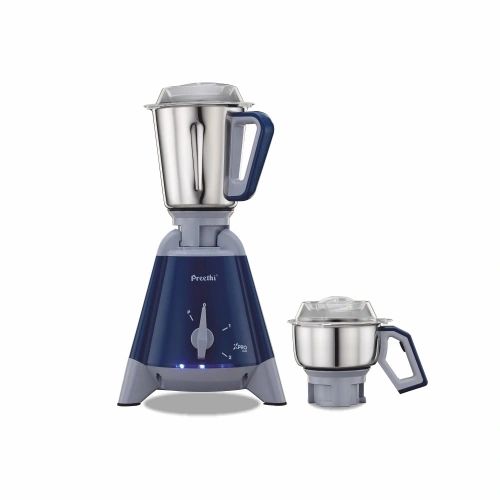 Preethi X Pro Duo 1300 Watts Mixer Grinder Color(Purple)
Product Detail:
Brand

Preethi
Color

Purple

Type

Mixer Grinder
Power

1300 W
Model ID

X Pro Duo - MG 198
Power Input                

1300 W

Power Consumption

1300 W
Revolutions

                

18000 RPM
Total Jars

2
Chutney Jar

Yes

Chutney Grinding

Yes
Wet Grinding

Yes
Product Detail:

The Preethi X Pro Mixer Grinder is an appliance that will help you save loads of time while cooking, by shortening the time you spend mixing or grinding. Its powerful 1300-watt motor has an innovative technology, known as Turbovent Technology. This technology helps the motor stay cool effectively. The three jars that come with this appliance are made of stainless steel and have flow breakers that are helpful for fine grinding. This mixer grinder comes with machine ground, polished steel blades, which are ideal for effective grinding.

1300 Watt Motor
High performance 1300 watt motor for commercial grinding
Tripod metal motor stand for reduced vibration and longer life
Turbo vent technology
Advanced Ventilation System keeps mixer body cool and thereby prevents the ingredients being heated and retains good taste of food
Increases the life of motor
Safety
3 Point Lid Lock for hands-free operation
Secure Jar Lock for vibration free operation
Shock Proof ABS Body
Heat Sensitive cutoff for protection against voltage fluctuation and overload
Reliability
High Grade Nylon Couplers for smooth trouble free usage
Lifelong free service and one year Warranty
JAR CONFIGURATION
  Rated Capacity
Jar Type Jar Capacity Dry Grinding Wet Grinding
Main Jar 2.0 L 0.8 L 0.7 L
Middle Jar 0.7 L 0.4 L 0.3 L
ACCESSORIES
Spatula
SPECIFICATIONS
Model No. : Xpro Duo- MG 198
Voltage: 230V AC 50 Hz
Power Consumption: 1300 Watt
Motor: Universal 1300 Watt High Power Motor
Material of Body: A.B.S.
Material of Jars: Stainless Steel
Blade Assemblies: Stainless Steel, Machine Ground and Polished.
Speed Controls: Rotary Switch with 3 Speed and Pulse
Flex Cord: PVC insulated 3 Core, Flexicord with Plugtop & earthing