Public Speaking LIVE Online Class for kids ages 5 to 15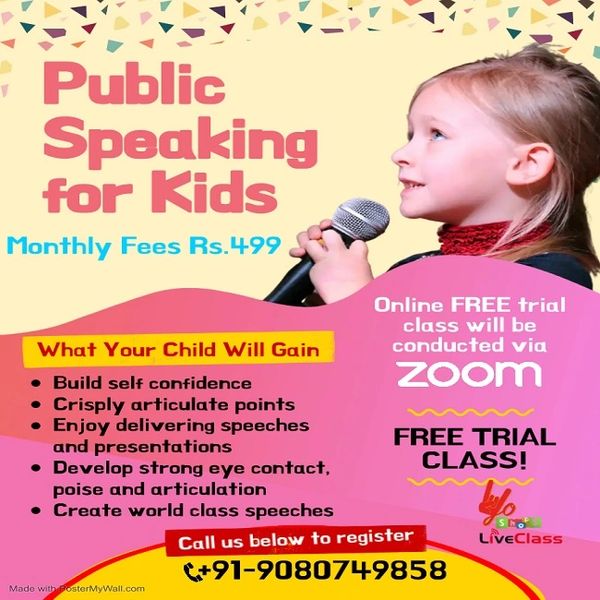 Public Speaking LIVE Online Class for kids ages 5 to 15
Welcome Kits Available
₹100 Flat Discount use Coupon Code- yo100
 Kids ages 5 to 15
Course Detail: 

Our online courses will help you develop real- world language chops and achieve your pretensions briskly, wherever you are. No matter what online course you choose, you 'll get effective results thanks to the immersive System, which focuses on exchanges. All our online courses include support and guidance from Hindi preceptors, access to an interactive pupil gate, and artistic pointers to insure you use the language. Enroll your child with India's best Public Speaking learning program for kids ages 5 to 15. These classes will enable your child to improve their English & presentation skills in front of the public.
Online Public Speaking Classes for Enhance your child's communication skills. Public Speaking LIVE Online Class 1-1 classes for Better Result.
Public Speaking Online Live Classes & Online Tuition Classes Benefits:
·       In this class, student learn Public Speaking like Thinking and Speaking.
·       In this class, student learn Spoken English from scratch and basic level, Spoken English for kids scratch.
·       This is Online Class and LIVE Classroom in Zoom app, Public Speaking for kids Online Class.
·       All  Classes video available in YouTube Yoshops Channel, Public Speaking for kids YouTube.