QUECHUA Kid's Tablet Bags-Cases Backpack 15Liter - Blue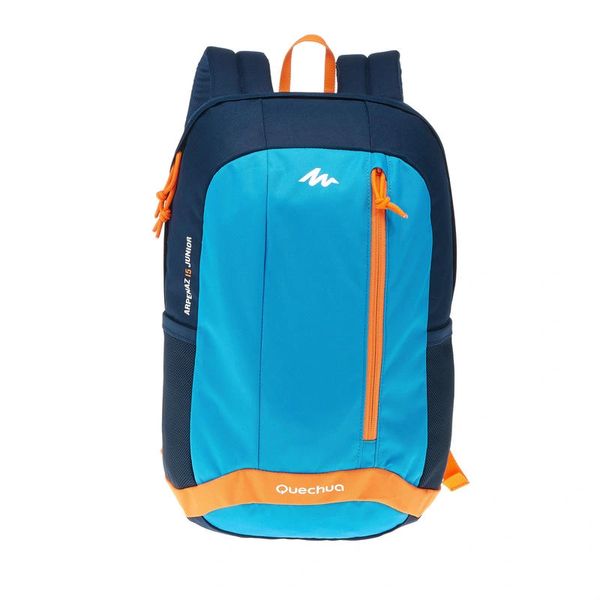 QUECHUA Kid's Tablet Bags-Cases Backpack 15Liter - Blue
Product Description:
·         Brand: Quechua
·         Warranty: 10 Years
·         Product Style: Kid's Tablet Backpack

·         Parent Brand: Decathlon
·         Capacity: 15 L
·         A 15-Liter Tablet backpack that is simple, lightweight and very practical for short day hikes. It helps you to carry what is essential. Your partner in on all your nature outings.
Product Details :
Overview
 Carry your laptop in style with QUECHUA Tablet bag. This unisex bag is available on Yoshps.com  QUECHUA  Tablet bag is sleek, smart and stylish. You can use it for work, at college or while traveling.
 Material and Design
 This Tablet bag comes in black n which looks extremely classy and attractive. It is in a medium size and is easy to carry and comfortable to use.
 Dimensions and Capacity
 The Tablet bag comes in the dimension of 15x5x15 cm and a Tablet of 38.1 cm can be easily placed into it. This Tablet bag is made from a very high quality canvas which protects your laptop from scratches and keeps it intact. It also lasts longer and remains the same after many uses. The bag has one large compartment ideal for the laptop and one additional compartment in the front with a zipper closure.
Other Features
 The laptop bag has comfortable and sturdy shoulder straps making it easy for you to carry the bag wherever you go. It has enough space for you to fit in your laptop, charger and a few other documents. You can make the maximum use of available space in this stylish laptop bag from QUECHUA .
Field Test:
All our backpacks are tested in the field by users who represent the target market in conditions identical to those found in typical use. Our Missions Tests link the product manager up with people who are not affiliated to Quechua to test, develop and approve the products.
Laboratory Testing We carry out laboratory tests to validate all component parts: fabric, buckles, straps, foam and zips. For example, for fabric: resistance to wear, tearing, color-fastness under UV rays, washing, waterproofing. A final test on the finished product simulates the kind of treatment to which it will be subjected over several years, to assess the strength of the assembly: the backpack is weighted then placed on a dummy which then reproduces the movement of fast walking over thousands of cycles.
10-year guarantee, technical partnership The heavy stitching research and development department, Quechua's partner for researching and testing its components and assemblies, conducted tests simulating backpack ageing. The tests focused on components, seams and the end product. As a result of these tests, Quechua can guarantee all bags tested for a period of 10 years from the date of purchase indicated on the sales receipt.
10-year guarantee, conditions The guarantee covers any backpack faults, except those caused by normal wear and tear and improper use. This special 10-year guarantee will only be granted upon presentation of the product and the sales receipt. If the product is covered by the warranty, it will be repaired or exchanged for free. This commercial guarantee does not affect any statutory guarantees that are applicable in the country of purchase.
How is backpack volume measured?The volume of each backpack is measured using a standardized method: we fill the main compartment as well as each pocket with little balls. Then we empty these balls into a graduated container, which gives the equivalent volume in litres.
How to adjust your backpack?1 - Loosen all the straps (straps, hip belt, load adjuster straps). 2 - Put the backpack on. 3 - For backpacks with a capacity of 50 L or more, place the hip belt correctly (it should sit over the pelvis) and tighten it. For smaller backpacks, the belt should be placed around the waist. 4 -Tighten the shoulder straps. 5 - Adjust the load adjuster straps as needed.
How to pack a backpack?Put your bedding at the bottom. Place heavy gear (tent, camp stove, food) near your back. Pack your clothes around these items. The groundsheet should be placed under the flap and the tent beneath the pack if there is no space inside. Keep a rainproof jacket and fleece close at hand. Place small items for daily use (sun cream, map, goggles etc.) in the pockets. If carrying a hydration pack (water bladder), this should be placed in its special pocket along the back.
Environmental measures The environmental impact of the product is calculated over the entire life cycle of the product using different indicators. An overall rating of ABCDE is provided to help you easily identify products with the best environmental performance by comparing products of the same type with each other (t-shirts, trousers and backpacks). Decathlon is a voluntary actor in this environmental labeling process. For further information:
Characteristics name Duration : Half-day hikes Volume : 20 L Comfort : Simple foam-padded back Adjustment : Simple Water bladder : Not compatible Rain cover : Sold separately
Storage advice Store the backpack in a dry place.
Tested by All our models are tested by users representative of our target market in conditions identical to those you encounter yourself when using them. We believe that carrying out 'real-life' testing is the only way to design and continuously advance the technical relevance and design of all our Quechua products.
Composition Main fabric : 100.0% Polyester (PES) Lining : 100.0% Polyester (PES)
Country of origin China,India,Vietnam,Bangladesh,Turkey.