Realme Buds Wireless BT-R3 BlueTooth Headphone(Black)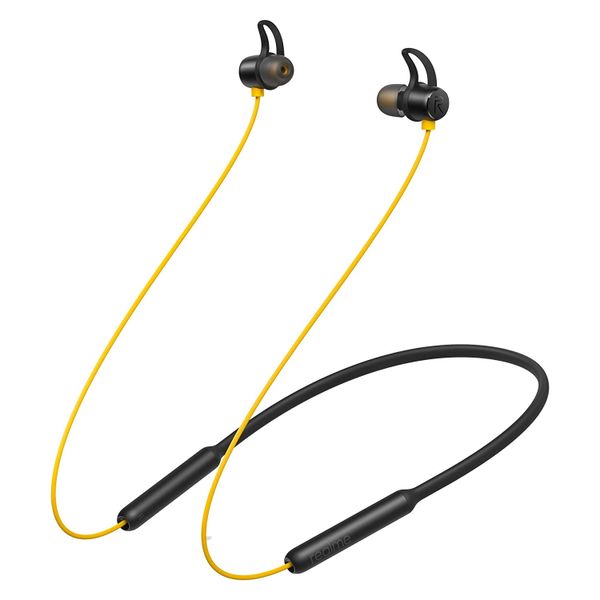 Realme Buds Wireless BT-R3 BlueTooth Headphone(Black)
CASH On Delivery Available
1.Yo-Gift Available

Buy Realme Buds Wireless BT-R3 BlueTooth Headphone at price of Rs.699 from Yoshops.com
Product Detail:
Recommended for Bass-Yes

Model-Buds
Form FactorIn-Ear
Brand-Realme
Headset -Audio Related
Speaker Driver Unit-11.2 mm
Microphone TypeBuilt-in
Headset Connectivity-WirelessYes
Bluetooth-Yes
Bluetooth versionv5.0
USB-Yes
Headset Controls
In-line ControlsYes
Battery Related
Rechargeable BatteryYes
Battery TypeLithium Ion (Li-Ion)
Battery Charge Time1.5 hours
Battery Life12 hours
Built-in Functions
Music Playtime12 hours
Physical Dimensions
Sweat & Rain resistantYes
Dimensions35.5 x 11 x 0.5 cms
ColourYellow
Weight31.8 grams
Additional Features
Features
Google Assistant With Three Tactile In-Line Buttons
A Premiun Neckband Design along side a drag Free Memory Metal String
In The Box & Warranty
In The BoxEar Tips 6 (Including 2 On The Earphones), Ear Support 2, Micro USB Cable
Warranty6 Months
Manufacturing & Packing Information
Commodity nameWireless Headphone
Product Description:
Welcome the new Realme Buds Wireless with an outsized 11.2mm bass driver, supplying you with a strong bass experience and exceptional sound quality. Realme Buds Wireless accompany an outsized 110mAh battery, supplying you with a playback time of up to 12hours on one charge. What's more, connecting your Realme Buds Wireless may be a breeze with magnetic auto on/off and Bluetooth 5.0 which enables a quick and stable connection. Adding slightly of premium to the last word sound experience, the Realme Buds Wireless also features a chic neckband design with high grade elastic memory metal which is additionally skin-friendly.
Powerful Bass
Enjoy a strong and deep bass with an ultra large 11.2mm bass boost driver and Japan Daikoku technology.
12hr Battery Life
With an efficient lithium battery, one full charge gives you 12 hours of listening time.
Three Button Remote
The inline remote features three buttons and a mic, so you'll control your music, calls, and voice assistant directly. Moreover, the earbuds also are sweat proof.
Premium Design
realme Buds Wireless are made up of premium metal and skin-friendly silica for your comfort, and realme's distinctive logo and colours cause you to stand-out within the crowd.
Seamless Connection
Thanks to the MFP (Magnetic Fast Pair) Technology, you'll just separate the buds when in use and snap then together to power-off. It's that straightforward .
Light and cozy
The realme Buds Wireless are ergonomic and made up of high-quality colloid and memory nickel-titanium alloy for your ultimate comfort.
Google:realme bt-r3 price,realme bt r3,realme r30,realme r300,realme r3 price,realme r30 neckband,realme r3 pro,realme r30 bluetooth,realme r3 neckband,realme r300 price,realme r3 price in pakistan,realme r3 price philippines,realme r3 specs,realme r3 price in bangladesh,realme r3 pro price philippines,realme r3 gsm arena,realme r3 bd price,realme bt r3,realme bt r3 price,realme c2 r3,realme r3 gsmarena,realme r3 pro gsmarena,realme r3 harga,harga realme r3pro,hp realme r3,realme r3i,realme r3 price in nepal,realme r3 4gb price in pakistan,realme r3 pro price in pakistan,oppo realme r3,oppo realme r3 price in pakistan,realme r3 pro 6/128,realme r3 review,realme r3 ram 4gb,realme r3 ram 3,realme r3 ram 4,realme r3 spesifikasi,realme r3 pro specs,realme r 3 pro spesifikasi,spesifikasi realme r3pro,spek realme r3 pro,realme r3 whatmobile,realme r3 3/64,realme r3 3/32,spesifikasi realme r3 3/32,realme r3 3/32 harga,realme r3 4gb,realme r3 pro 4/64,realme 5 - r3gb/64gb,realme r3 pro 6/64,spesifikasi realme r3 4/64,spek realme r3 3/64