Realme R40 Wired 3.5mm EARPHONE(Black)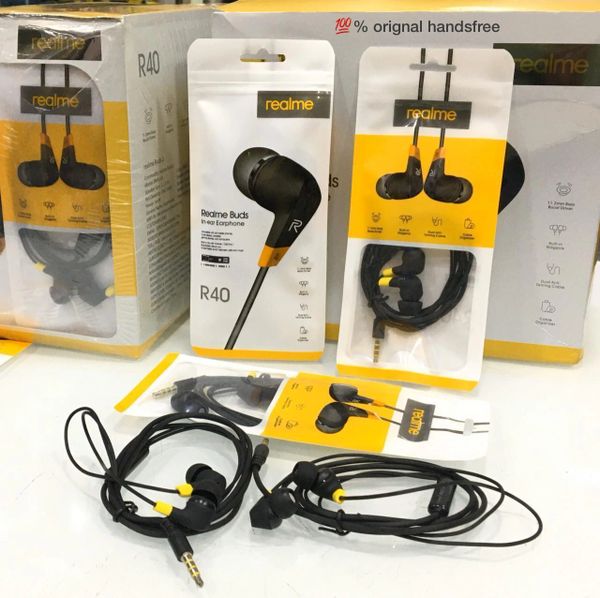 Realme R40 Wired 3.5mm EARPHONE(Black)
CASH On Delivery Available
1.Yo-Gift Available

Realme R40 Wired 3.5mm EARPHONE at price Rs.299 from Yoshops.com
Product Detail:
Type: Earphone
Brand: Powerplay
Model: R40
Colour: Black
Earphone Type: In-Ear
Mic: Yes
Wired/Wireless: Wired
Connector Size : 3.5mm
Impedance: 32ohm
Minimum Frequency: 18 Hz
Maximum Frequency: 20000 Hz
Product Description
Listen to your favorite tunes with this pair of earphones with a mic from Realme. it's been ergonomically designed with Kevlar Fibre for enhanced durability. These earphones accompany built-in magnets, thereby making it easier to hold them around. Louder Bass for Enhanced Audio
With a better frequency response and therefore the presence of 11 mm audio drivers, you'll get set to listen to deep bass notes which will elevate your listening experience. Built-in Magnets for simple Carrying With built-in magnets in situ , these earphones are often easily carried around and placed in your pockets.
Note: This Product is First Copy
While we make every possible attempt to accurately depict the specifications of every product, and try to obtain these specifications from reliable sources; occasionally there may be a mismatch between the features of the actual product and that depicted on our site due to factors not under our control. We, as a merchant, shall be under no liability whatsoever in respect of any loss or damage arising directly or indirectly out of such mismatch. In case you observe such a mismatch, please report here and we will try our best to get the right information posted on our site as soon as possible.
Return & Replacement Policy: We only accept returns if the item received by you is different from what you had ordered or is received in damaged condition.
Google:realme r40 earphones,realme r400,realme r40 price,realme buds r40,realme buds r40 price,realme 41,realme r40 earphones price,realme 42,realme 35,realme r2,realme 43,realme 52,realme 53,realme 56,realme r7