Realme STEREO Wired Headphone(Black)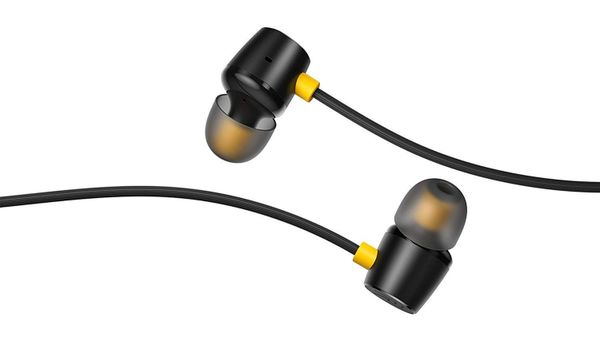 Realme STEREO Wired Headphone(Black)
CASH On Delivery Available
1.Yo-Gift Available

Buy Realme STEREO Wired Headphone at price Rs.299 from Yoshops.com
Product Detail:
With Mic:Yes
Connector type: 3.5mm headphone jack
Extra bass: Add extra thump to your music
One button universal remote to answer and manage
Package Dimensions 16 x 8 x 3 cm; 100 Grams
Item model number Earphone
Hardware Platform Laptop, MP3 Player, PC, Tablet, Smartphone
Microphone Form Factor In-Line, Built-In
Headphones Form Factor In Ear
Batteries Included No
Batteries Required No
Connector Type Wired
Material Plastic And Rubber
Country of Origin India
Item Weight 100 g
Earphone provides play/ pause button skip
Frequency response - 20Hz-20kHz
Impedance - 32 Â15 per cent
Driver unit - 10mm
Rated power - 5mW
Mylar - 6uT.H.D.- 0.1 percent
Sensitivity - 105dB 3dB
Connector - 3.5mm
Cable Materials - TPE
Cable Length - 1.2m
Mic -Answer button - Yes
Speaker Size - 10mm
Function - Microphone, Noise Cancelling, All with one Button.
Product Description:
Put on these earphones from Realme and hear your favourite tunes in their finest quality. These earphones are ergonomically designed using Kevlar Fibre and Built-in Magnets for enhanced durability. That's not all, with a mic in situ , you'll enjoy clear conversations together with your dear ones.
Classical earphone with excellent sound. it's in-ear soft earbuds and high performance speaker. Good for listening MP3/Music, watching DVD/movie. Compatible with portable music players with 3.5mm jack built-in mic Works with most Android, phones and other smartphones for crystal clear quality.
Earphone immersive sound and noise reduction -It produces clear mid-range frequencies while achieving powerful yet accurate bassElegant with stylish design - Comes with stylish design and high-end sound quality, these earphones are designed for the newest generations Earphone. They work with all Androids, Tablets, MP3 players, and related devices Amazing sound and Excellent bass - Good-quality audio signal transmission ensure outstanding Hi-Fi performance Super bass of a strong 10 mm drivers for HD sound while the super extra bass allows you to enjoy your favourite songs with greater clarity making the method of taking note of music a satisfying one. With a complete harmonic distortion of 0.3 per cent, a good frequency range of 20 Hz to twenty KHz, speaker resistance of 16 Ohm and sensitivity range of 98 dB 3dbthat minimizes any distortion of sound quality, you're guaranteed a fun-filled auditory experience.
Note: This Product is First Copy
While we make every possible attempt to accurately depict the specifications of every product, and try to obtain these specifications from reliable sources; occasionally there may be a mismatch between the features of the actual product and that depicted on our site due to factors not under our control. We, as a merchant, shall be under no liability whatsoever in respect of any loss or damage arising directly or indirectly out of such mismatch. In case you observe such a mismatch, please report here and we will try our best to get the right information posted on our site as soon as possible.
Return & Replacement Policy: We only accept returns if the item received by you is different from what you had ordered or is received in damaged condition.
Google:realme buds 2 subwoofer stereo wired earphones with mic,realme stereo earphones,realme stereo earphones re 400,realme stereo headphones,realme stereo buds 2,realme stereo speaker phone,realme stereo headset,realme stereo earphones r60,realme stereo bluetooth,realme stereo buds,realme stereo bass,realme stereo earphones price in india,realme stereo earphones buds 2,realme stereo earphones rma103,realme stereo headset price,realme wireless stereo headset,realme 6 has stereo speaker,realme x have stereo speakers,realme stereo earphones price,realme x2 pro stereo speakers,realme 6 pro stereo speaker,realme 7 pro stereo speakers,realme 3 pro stereo speaker,realme 5 pro stereo speaker,realme x2 pro stereo,realme wireless stereo headset rm-e100,realme stereo speakers,realme x stereo speaker,realme x2 stereo speakers,realme 6 stereo speaker,realme xt stereo speaker,realme x3 stereo speakers,realme 7 stereo speakers,realme phones with stereo speakers,realme x50 stereo,realme x2 stereo,realme x3 superzoom stereo speaker,realme buds 2 stereo earphones,realme buds 2 stereo,realme 5 pro stereo,realme 6 stereo,realme 6 pro stereo,realme 7 stereo,realme wired earphones,realme wired earbuds,realme wired earphones review,realme wired bluetooth,realme wired earphones pro,realme wired buds classic,realme wired earphones warranty,realme wired headset price,realme wired earphones 2,realme wired buds,realme buds wired headset with mic,realme buds wired price,realme buds wired review,realme buds 2 wired,realme classic wired earphones,realme buds classic wired earphones,realme wired earphones yoshops,realme wired earphones yoshops,realme wired headphones,realme wired handsfree,realme rma155 wired headset,realme rma155 wired headset review,realme buds wired headset review,realme buds 2 wired headset with mic,i'm really weird,i'm really weird when i'm alone,i feel really weird,i feel really weird right now,i feel really weird today,i'm having really weird dreams,i have really weird vivid dreams,i feel really weird and dizzy,realme wire,realme new wired earphones,realme wired earphones price,realme buds 2 wired price in pakistan,realme buds 2 wired price,realme buds 2 wired price in nepal,realme buds 1 wired,realme wired buds 2,realme buds 2 wired review,realme buds 2 wired earphones with mic,realme buds 2 wired headset of,realme buds 2 wired headset of made in india,realme buds 3 wired,3 realme