REALME YOUTH BUDS Wireless Bluetooth Headphone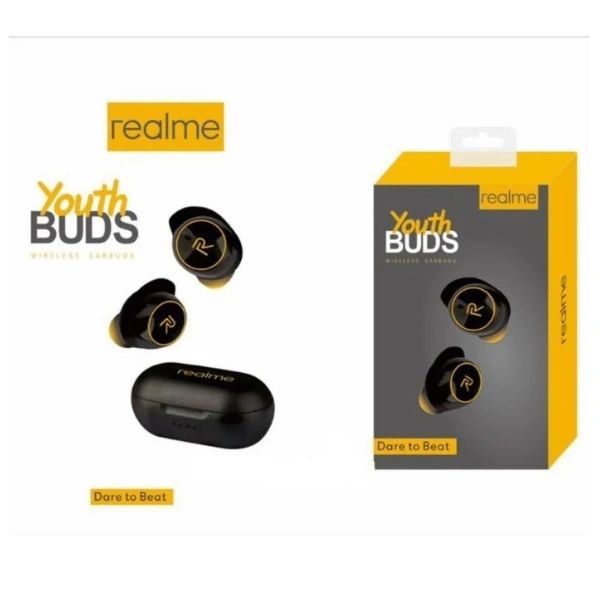 REALME YOUTH BUDS Wireless Bluetooth Headphone
Cash On Delivery Available.
1- Yo Gift Available.
Buy REALME YOUTH BUDS Wireless Headphone at a price of Rs.999 from Yoshops.com
Product Detail :
Model Name: YOUTH BUDS WIRELESS EARBUDS WITH MIC
Color: Black
Headphone Type: Bluetooth In the Ear
Inline Remote: Yes
Headphone Design: Earbud
Sweat Proof: Yes
Deep Bass: Yes
With Microphone: Yes
Warranty: Covered in Warranty
Product Description:
Realme Buds Youth is an in-ear truly wireless earphone designed by french design master José Lévy. The 3.6g ultra-light Buds feature an outsized 10mm Dynamic Bass Boost Driver and quality AAC codec support for superior sound quality. The 20-hours total battery life means you'll hear your music for much longer without having the necessity to charge your Buds. The IPX4 waterproof rating alongside Intelligent Touch Controls with in-built mic makes the realme Buds Youth the simplest choice because the most stylish in-ear Truly wireless earphones.
High-quality Headphones delivers clear sound to offer you the pleasure of taking note of music. All-encompassing experience of sound: high, medium, low noise, whether it feels harmonious, homogeneous.
Note: This Product is First Copy
While we make every possible attempt to accurately depict the specifications of every product, and try to obtain these specifications from reliable sources; occasionally there may be a mismatch between the features of the actual product and that depicted on our site due to factors not under our control. We, as a merchant, shall be under no liability whatsoever in respect of any loss or damage arising directly or indirectly out of such mismatch. In case you observe such a mismatch, please report here and we will try our best to get the right information posted on our site as soon as possible.
Return & Replacement Policy: We only accept returns if the item received by you is different from what you had ordered or is received in damaged condition.
Google:realme youth buds wireless,realme youth buds dare to beat,realme youth buds price in india,realme youth buds 9,realme youth buds specifications,realme youth buds 9 price,realme youth buds dare to beat price,realme youth buds air 2,realme youth buds price,realme youth buds yoshops,realme youth buds air 2 price,realme youth buds bluetooth,realme youth buds bluetooth speaker,realme youth buds buy online,realme youth buds cover,realme youth buds case,how to connect realme youth buds,realme youth buds dare to beat price in india,realme youth buds launch date in india,realme youth buds earphone,realme youth buds wireless earbuds,realme youth buds yoshops,realme youth buds features,realme youth buds how to use,realme youth buds india,realme youth buds 9 price in india,realme youth buds mini speaker,realme youth buds manual,realme youth buds neckband,realme youth buds price yoshops,realme youth buds price yoshops,realme youth buds price philippines,realme youth buds pairing,realme wireless youth buds price,realme youth buds review,realme youth buds reset,realme youth buds s9,realme youth buds speaker,realme youth buds wireless speaker,realme youth buds wireless price,realme youth buds wireless earbuds price,realme youth buds wireless earphones,realme youth wireless earbuds,realme buds 3,realme youth buds 8 price,realme youth buds 9 wireless earbuds