REALME YOUTH BUDS Wireless Bluetooth Headphone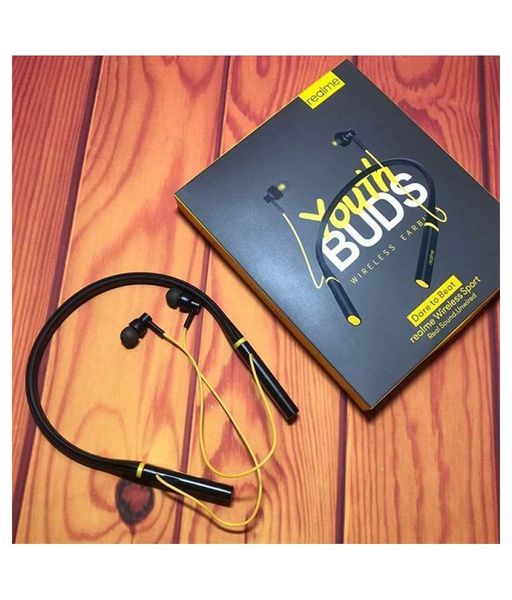 REALME YOUTH BUDS Wireless Bluetooth Headphone
CASH On Delivery Available
1.Yo-Gift Available

Buy REALME YOUTH BUDS Wireless Bluetooth Headphone at the price of Rs.799 from Yoshops.com,
Product Detail:
Model Name: Youth Buds
General Details Of Headset
Utility : Sports & Fitness
Type of Headphone: within the Ear
Connectivity: Wireless
Headset Design: Neckband
Foldable/Collapsible: No
Audio Controls: Yes
Headset Specification
Memory Card Slot: Yes
FM: No
Mic: Yes
Mobile & Tablets Accessories Warranty
Warranty Type: No Warranty
Warranty Duration: No Warranty
Country of origin
Country of origin: India
Product Description:
10 minutes of charging gives you 100 minutes of music time. Large 110mAh battery charges completely in 1.5 hours, giving a playback time of up to 12 hours
11.2 mm sound driver capable of manufacturing great bass
Built-in magnets: Enjoy magnetic earbuds with auto on and off feature for seamless audio connection
Three-button remote: Control your music, handle phone calls and even summon Google Assistant with three tactile inline buttons
A premium neckband design alongside a tangle-free memory metal string ensures an excellent experience
6 months warranty
Welcome the new Realme Buds Wireless with an outsized 11.2mm bass driver, supplying you with a strong bass experience and exceptional sound quality. Realme Buds Wireless comes with an outsized 110mAh battery, supplying you with a playback time of up to 12hours on one charge. What's more, connecting your Realme Buds Wireless may be a breeze with magnetic auto on/off and Bluetooth 5.0 which enables a quick and stable connection. Adding slightly of premium to the last word sound experience, the Realme Buds Wireless also features a chic neckband design with high-grade elastic memory metal which is additionally skin-friendly.
Note: This Product is First Copy
While we make every possible attempt to accurately depict the specifications of every product, and try to obtain these specifications from reliable sources; occasionally there may be a mismatch between the features of the actual product and that depicted on our site due to factors not under our control. We, as a merchant, shall be under no liability whatsoever in respect of any loss or damage arising directly or indirectly out of such mismatch. In case you observe such a mismatch, please report here and we will try our best to get the right information posted on our site as soon as possible.
Return & Replacement Policy: We only accept returns if the item received by you is different from what you had ordered or is received in damaged condition.
Google:realme youth buds price,realme youth buds wireless,realme youth buds dare to beat,realme youth buds 9,realme youth buds dare to beat price,realme youth buds 9 price,realme youth buds specifications,realme youth buds air 2,realme youth buds review,realme youth buds Yoshops,realme youth buds air 2 price,realme youth buds bluetooth,realme youth buds bluetooth speaker,realme youth buds buy online,realme youth buds cover,realme youth buds case,how to connect realme youth buds,realme youth buds dare to beat price in india,realme youth buds launch date in india,realme youth buds earphone,realme youth buds wireless earbuds,realme youth buds 9 wireless earbuds,realme youth buds Yoshops,realme youth buds features,realme youth buds how to use,realme youth buds india,realme youth buds price in india,realme youth buds 9 price in india,realme youth buds mini speaker,realme youth buds manual,realme youth buds neckband,realme youth buds price Yoshops,realme youth buds price Yoshops,realme youth buds price philippines,realme youth buds pairing,realme wireless youth buds price,realme youth buds r280,realme youth buds reset,realme youth buds speaker,realme youth buds s9,realme youth buds s2,realme youth buds wireless speaker,realme youth buds wireless earbuds price,realme youth buds wireless price,realme youth buds wireless earphones,realme youth wireless earbuds,realme youth buds 2,realme buds 3,realme youth buds 8