Samsung Blue Earphone Pouch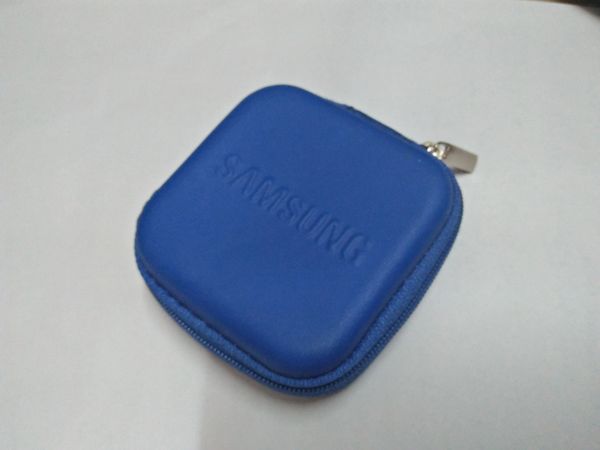 Samsung Blue Earphone Pouch
Product Detail:
·

        

Colour: Blue

·

        

Item Weight: 50 g

·

        

Product Dimensions: 7 x 7 x 3 cm


Product Description:


It can be a headphone package, USB data line package, MP3 bag, Coins purses, Mini wallet, cosmetics, keys, card packs, Memory Cards, USB Flash Drive, lens filter and gadgets admission package. It is convenient to carry.
·         Coin purse to keep change safe or your earrings, rings, jewellery etc Protect your earphones in style. Money pouch
·         Keep safe your fashion accessories and Multi purpose gift item for all users and ages
·         Durable design and comfortable earbuds ensures that earphones always stays in place while running, Jogging and Gym
·         SUPERIOR QUALITY - Your Headphones fit like a glove and will be perfectly protected against typical banging that comes with transporting, High quality material, long lasting, perfect fit.
·         HOOK IT UP - Easily with Bags, Belts, Loops.
·         PREMIUM EDITION - This is a PREMIUM Edition product comes in more Variants of Designer Pattern and colour.
·         100% Brand New And High Quality. Mini and cute design, always practical, always ready.
·         USB Pen Drive, length<6.8cm, SD Card, XD Card, CF Card, Mini SD, MicroSD, Sim Card, Coins.
 Mini and cute design, can save space for your handbag. Double side pattern is different. Practical and fashion It is a good gift for your friend. Compact and functional hard case keeps items safe and extremely portable. Simply zip it up and toss it into your purse, briefcase or luggage for easy travel. This item is a perfect way to keep your headphones from getting tangled in the bottom of your bag, it comes with a small metal clip so that it can easily be attached to your keys or a key chain with Enjoy wireless life and set yourself free from wires and cords with H850 Bluetooth 4.1 and CVC Noise Cancellation 6.0 technology. Pair in a few seconds with your smartphone, tablet, or music player, and let your favourite music and podcasts drive you forward. Coming with interchangeable ear buds and hooks, the headset will stay comfortable on your ears even when you are moving around. Bluetooth Earphones was designed for sports usage , made by waterproof material, ergonomic innovative and waterproof sweat proof design, Ensures this headset is comfortable and secure for sports ,running ,jogging ,walking ,exercising,etc. Stylish looks and built-in Bluetooth chip with HiFi Stereo earphones, ensures you could enjoy high quality stereo bass sound. Mini Portable Wireless headsets with built-in microphone and great Noise Cancellation produces clear loud sound, convenient and easy to answer and end the phones.
Note: This Product is First Copy
While we make every possible attempt to accurately depict the specifications of every product, and try to obtain these specifications from reliable sources; occasionally there may be a mismatch between the features of the actual product and that depicted on our site due to factors not under our control. We, as a merchant, shall be under no liability whatsoever in respect of any loss or damage arising directly or indirectly out of such mismatch. In case you observe such a mismatch, please report here and we will try our best to get the right information posted on our site as soon as possible.
Return & Replacement Policy: We only accept returns if the item received by you is different from what you had ordered or is received in damaged condition.