Samsung U Flex Wireless Bluetooth Flexible Headphones with Mic (Black)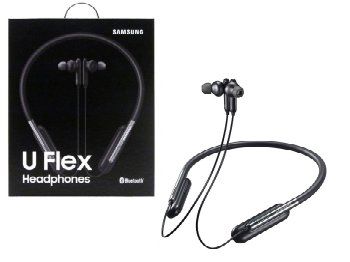 Samsung U Flex Wireless Bluetooth Flexible Headphones with Mic (Black)
Cash on Delivery available
₹100 Flat Discount Coupon Code- Yo100

and Shopping to win prize everyday.
Product Detail:
Brand    Samsung
Model    EO-BG950CBEGIN
Model Name    EO-BG950CBEGIN
Item Weight    336 g
Package Dimensions    23.9 x 21.1 x 4.3 cm
Batteries:    1 Lithium ion batteries required. (included)
Item model number    EO-BG950CBEGIN
Hardware Platform    Tablet, Laptop, Smartphone
Compatible Devices    Samsung
Additional Features    Bluetooth, with microphone
Included Components    Headphone, 4 Ear Tips, 1 USB Cable and Quick start guide
Microphone Form Factor    with microphone
Headphones Form Factor    In Ear
Battery Cell Composition    Lithium Ion
Connector Type    Bluetooth
Premium sound dynamics
Non-stop music enjoyment
Product Description:
Shaped for performance
Take comfort in sound. With its flexible neckband adjustment, Samsung U Flex Headphones are designed to fit perfectly and withstand harsh conditions so they keep working wherever you need them, whether at the gym, commuting to work or out jogging.

shaped for performance
*To avoid product dis figuration and malfunction the neckband should not be bent more than 100 degrees.

Premium sound dynamics
Be good to your music. Samsung U Flex Headphones are engineered with two-way speakers, consisting of 11mm woofers and 8mm tweeters, so that every note and timbre is timbre is truly accurate across the entire frequency spectrum.

premium sound dynamics
Non-stop music enjoyment
Keep your music flowing without interruption. Samsung U Flex Headphones' proprietary Scalable Codec technology optimizes audio performance despite radio interference to ensure continuous, stable Bluetooth sound.

non-stop music enjoyment
*The scalable Codec is compatible with selected Samsung smartphones using Android 7.0 or later OS versions.

Bixby responds to you
Stay productive with little effort. With integrated Bixby support Samsung U Flex Headphones lets do things conveniently through voice command. Simply talk after pressing or while holding the active button and Bixby will start working for you even while your smartphone is in your pocket.

bixby responds to you
*Bixby or S Voice is compatible with selected Samsung mobile devices, including Galaxy S8 and S8+.**Bixby or S Voice service availability may vary by country and by individual situation.
*Features button might be inactive depending on the connected device or application.
Note: This Product is First Copy
While we make every possible attempt to accurately depict the specifications of every product, and try to obtain these specifications from reliable sources; occasionally there may be a mismatch between the features of the actual product and that depicted on our site due to factors not under our control. We, as a merchant, shall be under no liability whatsoever in respect of any loss or damage arising directly or indirectly out of such mismatch. In case you observe such a mismatch, please report here and we will try our best to get the right information posted on our site as soon as possible.
Return & Replacement Policy: We only accept returns if the item received by you is different from what you had ordered or is received in damaged condition.
Google:
u flex headphones samsung,u flex headphones samsung price,u flex headphones review,u flex headphones price,u flex headphones Yoshops,u flex headphones eo-bg950,u flex headphones price in india,u flex headphones specifications,u flex headphones battery life,samsung u flex headphones Yoshops,samsung u flex headphones app,samsung u flex headphones australia,samsung u flex bluetooth headphones,u flex headphones best buy,u flex headphones battery,u flex bluetooth headphones,samsung u flex headphones battery life,u flex bluetooth earphones,samsung u flex headphones bluetooth,samsung u flex headphones best buy,u flex headphones charging,samsung u flex headphones compatibility,samsung u flex headphones colors,samsung u flex headphones charger,samsung u flex headphones croma,samsung u flex headphones canada,samsung u flex headphones not charging,samsung u flex headphones driver download,samsung u flex headphones driver,samsung u flex headphones release date,samsung u flex headphones (eo-bg950) price,samsung u flex headphones ebay,samsung u flex headphones eo-bg950cbegus,u flex headphones for sale,samsung u flex headphones features,u flex headphones gsmarena,u flex headphones giá,how to charge u flex headphones,how to use u flex headphones,u flex headphones india,samsung u flex headphones india,samsung u flex headphones iphone,u flex headphones price in nepal,u flex headphones price in sri lanka,level u flex headphones,samsung level u flex headphones,samsung u flex headphones manual,samsung u flex headphones myntra,samsung u flex headphones user manual,u flex headphones prix maroc,samsung u flex bluetooth neckband headphones,tai nghe u flex headphones,samsung u flex headphones eo-bg950 cbe gww,samsung u flex headphones eo-bg950,samsung u flex eo bg950,samsung u flex headphones price,samsung u flex headphones qatar,samsung u flex headphones review,samsung u flex headphones reset,samsung u flex headphones repair,samsung u flex headphones range,samsung u flex wireless headphones review,samsung u flex headphones troubleshooting,u flex headphones prix tunisie,u flex headphones unboxing,samsung u flex headphones uk,samsung u flex headphones unboxing,u flex wireless headphones,samsung u flex headphones waterproof,samsung u flex headphones with iphone,samsung u flex headphones warranty period,samsung u flex headphones white,samsung u flex wireless headphones,samsung u flex 3 headphones,samsung u flex 3 headphones price