Combo pack Toys Savoir Robot and Barbie doll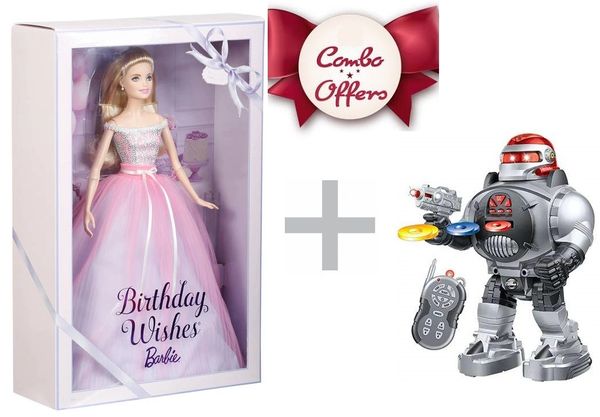 Combo pack Toys Savoir Robot and Barbie doll
Product Detail:
Product Type:Barbie doll and Savior Robot Combo Pack
Multi-Function Musical Robot With Colorful Spinning Lights.

This Robot Arms can Swing Up and Down

Color: Multi-Color

Item Barbie doll Dimensions

25.4 x 5.7 x 32.4 cm

Made of High-Quality ABS Plastic. Please Insert 4 AA-size batteries.

Product Description:

Savior Multifunctional Robot with Colourful Lights, Missile Shooting for Kids. The robot can walk, talk, clear sound effect, Full Music, can throw bullets made of soft rubber (harmless), hands move up-down, and there is a turning light like a fan.Barbie doll's look simply by changing her hair. Barbie doll comes with lots of glam accessories to create a new do with ease
Google:
robot toys for kids,robot toys,robot toys for kids remote control,robot toys with remote control,robot toys for boys.robot toy for kids,robot toy remote control,robot toy with remote control,robot toy for boys,robot toy for boys 10 years.i robot toy,robot toy kit,robot toy robot toy,robot toy set,robot toy with remote,barbie dolls for girls,barbie doll house full set,barbie dolls for girls under 500,barbie doll dresses and shoes,barbie doll for girls,barbie doll dresses,barbie doll accessories,barbie doll accessories set,barbie doll and pets,barbie doll accessories and dresses,barbie doll and playset multi color,barbie doll house,barbie doll set,barbie doll barbie doll.