Solanki King Car Bugatti Style Steering Radio Control Rechargeable Car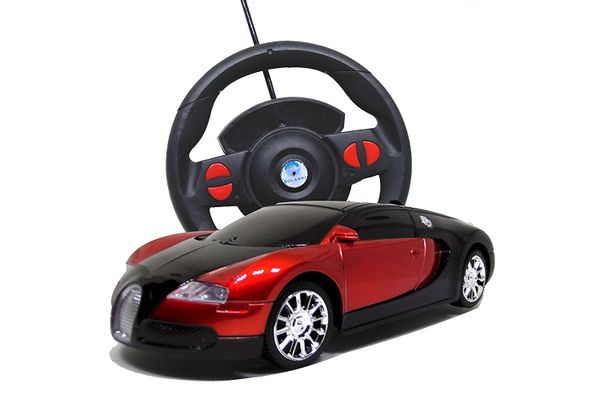 Solanki King Car Bugatti Style Steering Radio Control Rechargeable Car
Product Detail:
Steering remote controlled car
Adjustable front wheel alignment for better precision
Assembly Required No

Scale 1 : 18
Batteries Required No
Batteries Included No
Color Multi
Item Weight 621 g
Product Dimensions 37 x 15 x 11.6 cm
Manufacturer's Minimum Suggested Age (years) 6

Product Description:

1:18 Scale Bugatti remote control high quality material sports car. Function of the car. Forward backward, left right turn, flashing headlights as you move the car, top quality material, front wheel alignment, remote control. Best option to gift a toy to your kid or someone else. Every kid fond of cars, in their childhood they want to have their own car. Now stop saying no to them just gift them their own car and spread smile on their faces. We have brought you one of the finest quality and long durable toy remote control car for your love kids. This can be best gift option as everyone know kids love toys. Don t make your kids wait anymore grab one for your love.The kids just love the designer contour of this sports coupe remote control toy car model.The perfectly moulded dual colour car body shell makes this model a car model collectors choice as well as great fun to play with full functions radio control forward, backward, turn left and right rechargeable battery can be charged with charger provided inside this model has flashing head and tail lights for added realistic effect easy control with remote control, big car with 116 scale.
Keyword:Keyword: Solanki king car price,solanki king car,radio control car toy,radio control car charger,radio control car,radio control car with steering wheel,radio control cars for boys,radio control cars under 1000,radio control car with charger,radio control car for boys,radio control car for boys low price,radio control car for boys below 1000,radio control car high speed,radio control car in low price,radio control car kit,radio control car low price,radio control car of bugatti,radio control car of bugatti of rechargeable,radio control car remote,radio control car with steering wheel under Rs.1000.