Sony PlayStation PS2 Gaming Console 150 GB Hard Disk With 50 Games Preloaded(Black)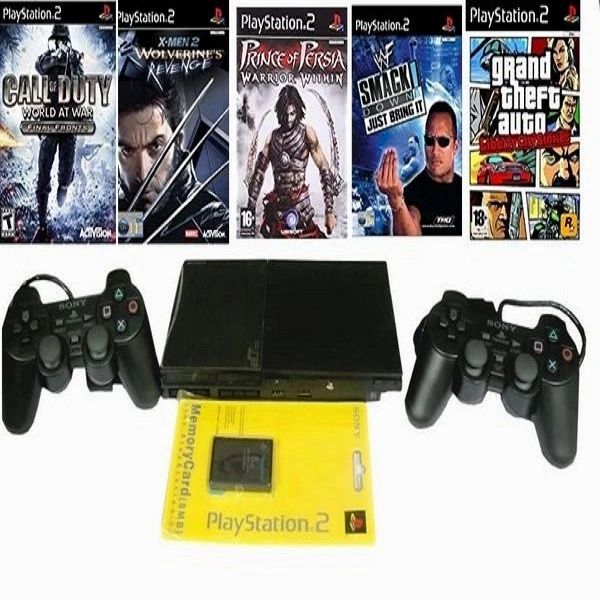 Sony PlayStation PS2 Gaming Console 150 GB Hard Disk With 50 Games Preloaded(Black)
Product Detail
·         Box Content: PlayStation 1 Console, 2 Joystick, 1 AV Cable, 1 Power Cord, Memory Card
·         Warranty:1 Year Dealer Warranty
·         Memory:
150GB
·         Colour:
BLACK
·         Brand:
SONY
·         Language: ENGLISH
·         Material:
FIBER
Product Description
The PlayStation 2 (PS2), is a home video game console that was manufactured by Sony Computer Entertainment. It is Sony's second installment in the PlayStation Series. The sixth-generation console competed with Sega's Dreamcast, Microsoft's Xbox, and Nintendo's GameCube.New Sony PS2 runs on an Emotion Engine processor that produces precise high-resolution 2D and 3D graphics. Further, it has an inbuilt DVD and CD player that lets you enjoy your favorite movies, TV series, and music. sony ps2 hard disk price, sony ps2 HDMI, sony ps2 handheld, sony ps2 HDD, sony ps2 HDMI cable, sony ps2 HDD adapter, sony ps2 hardware, sony ps2. 

This sleek gaming console from Sony measures 230 x 28 x 152 mm and weighs merely 900g. Carry it to your friend's house, make it stand or lie flat in the TV unit, the choice is yours. It requires 8.5 V power to function and consumes 5.3 A of electrical current. The console is multi-functional as it houses several connectivity ports for you to experience complete entertainment. There are 2 controller ports, 2 memory card slots, and 2 USB connector ports at the front-side of the console, and a network connector, a DC IN connector, an AV multi-out connector, and a digital out connector at the rear-side of the console controller,
Gaming is incomplete unless you have the perfect sound quality to go with the visuals. New Sony PS2 ensures quality audio as it is well-equipped with Dolby Digital AC-3 and DTS sound features. Another great feature of the New Sony PS2 is that it is backward compatible, which means that it can play both PlayStation one and PlayStation 2 games without any problems. So, your collection of games in PlayStation one will still work perfectly when you upgrade your home entertainment to the PS2.

Sony's PlayStation 2 is one of the topmost videotape game consoles of all time. Not only has it erected up a tremendous library of software over the times, but it's also vended further than 145 million units worldwide-- further than any other press to date.
2010 marks the 10- time anniversary of the PS2's launch, so what better way to celebrate the cherished press than to look back at all the great games we have enjoyed on the system? The PlayStation 2 had it all shooters, fighters, racers, and part- playing games-- no kidney went unloved during the PS2's brilliant life. We have taken the time to rank the top 100 games on the PlayStation 2, no small feat considering how numerous fantastic titles are out there. Only a many editors were injured in the process, but the immolation was well worth it.
Read on to uncover the finest gems of the PS2's library, and subscribe off in the commentary with your own picks and the inevi le outrage which comes from such a delicate fire.
If you are one of those who enjoy playing with other players rather than playing alone then the New Sony PS2 multi-player mode will leave you impressed. You can use the network connector port and connect your PS2 to the Internet to gain access to several multi-player games. The New Sony PS2 comes with a DUALSHOCK Analogue controller that has pressure-sensitive buttons of 255 sensitivity levels. No more straining your hands or fingers, thanks to this ergonomically-designed controller.
Sony PS2 Game List:
Aggressive Inline
Amplitude
Ar Tonelico 2: Melody of MetaFalica
Baldur's Gate: Dark Alliance
Battle Engine Aquila
Beyond Good & Evil
Black
Bully
Burnout 2: Point of Impact
Burnout 3: Takedown
Colin McRae Rally 3
Dark Cloud 2
Dead to Rights
Devil May Cry
Devil May Cry 3: Dante's Awakening
Disgaea: Hour of Darkness
Dragon Quest VIII: Journey of the Cursed King
ESPN NFL 2K5
Fatal Frame II: Crimson Butterfly
Fight Night 2004
Final Fantasy X
Final Fantasy XII
Frequency
Gitaroo-Man
God Hand
God of War
God of War II
Grand Theft Auto: San Andreas
Grand Theft Auto: Vice City
Grand Theft Auto III
Gran Turismo 3 A-Spec
Gran Turismo 4
GrimGrimoire
Guilty Gear X2
Guitar Hero
Guitar Hero II
Gungrave
ICO
Jak 3
Jak and Daxter: The Precursor Legacy
Karaoke Revolution
Katamari Damacy
Killer 7
Kingdom Hearts
Kingdom Hearts II
Kingdom Hearts RE: Chain of Memories
Madden NFL 2005
Manhunt
Maximo: Ghosts to Glory
Max Payne
Mercenaries
Metal Gear Solid 2: Sons of Liberty
Metal Gear Solid 3: Snake Eater
Monster Rancher 4
MVP Baseball 2005
NBA Street Vol. 2
Need for Speed: Hot Pursuit 2
Odin Sphere
Okami
Onimusha 2: Samurai's Destiny
Primal
Prince of Persia: Sands of Time
Project Eden
Psychonauts
Ratchet & Clank
Ratchet & Clank: Going Commando
Ratchet & Clank: Up Your Arsenal
Resident Evil 4
Rez
Ridge Racer V
Rogue Galaxy
Sakura Wars: So Long, My Love
Shadow of the Colossus
Shin Megami Tensei: Persona 3 FES
Silent Hill 2
Sly 3: Honor Among Thieves
Sly Cooper and the Thievius Raccoonus
SOCOM II: U.S. Navy SEALs
Soulcalibur II
Spider-Man 2
SSX 3
SSX Tricky
Star Ocean: Till the End of Time
Star Wars: Battlefront
Suikoden III
The Mark of Kri
The Warriors
TimeSplitters 2
Tomb Raider Anniversary
Tom Clancy's Splinter Cell Chaos Theory
Tony Hawk's Pro Skater 3
Tourist Trophy: The Real Riding Simulator
Transformers
Twisted Metal: Black
Viewtiful Joe
Viewtiful Joe 2
Virtua Fighter 4: Evolution
WWE SmackDown! Here Comes the Pain
X-Men Legends II: Rise of Apocalypse
Zone of the Enders: The 2nd Runner