BOSE Sound True SQ2 Headphones Pouch (Black)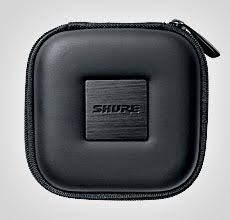 BOSE Sound True SQ2 Headphones Pouch (Black)
Production Description:
Color:  Black
Type:   In Ear
Model: Sound True SQ2
Wired/Wireless:           Wired
Mic:             With Mic
Jack Diameter 3.5 mm

Compatible with All products
BOSE Sound True SQ2 Dynamic Earphone Wired Headphones  (White, Red, Black, Green, Yellow, Blue In the Ear)
Product Details :
Deep, rich sound across a wide frequency range, enhanced by a sealed acoustic design for better immersion in your music Proprietary Stay Hear Ultra tips, in three sizes, stay soft while giving you a secure fit Durable design engineered for sweat and weather resistance
Inline microphone and remote for easy switching between calls and music with select iPhone models Protective carrying case included.
Sound True Ultra in-ear headphones deliver deep, rich sound across a wide frequency range. And the sealed acoustic design comfortably immerses you in your music. The proprietary Stay Hear Ultra tips, available in three sizes, stay soft while giving you a secure fit. Easily switch between calls and music with your iPhone. Shut out the world and lose yourself in your music, or hear what's around you. It's your choice with the first in-ear noise cancelling headphones from Bose. Quiet Comfort 20 acoustic noise cancelling headphones are engineered to let you enjoy better sound every day, everywhere you go. Turn on noise cancelling to reduce surrounding distractions and focus on your music. Or, at the touch of a button, activate Aware mode so you can hear what's happening around you without removing the headphones. The exclusive TriPort technology brings your music to life while additional Bose technologies provide dramatic noise cancellation rivaling any full-sized headphone on the market today.
In-ear. Noise cancelling. Better sound. 
Noise cancelling of the QC20 Headphones rivals any full-sized headphone.Exclusive Bose advancements in noise reduction technology lets you hear less noise and more of your music—with brilliant sound and a long-lasting in-ear fit!
StayHear + tips 
Physically block some noise while our Acoustic Noise Cancelling technology electronically reduces most of what's left. It's just you and your music, even in noisy environments.
Aware mode 
Instead of removing your headphones, just press a button, and you're back in touch with the sounds around you—while your music keeps playing, and you still experience some noise cancellation.
TriPort technology and Active EQ 
Combine to give your music a depth and balance that keep your daily soundtrack fresh and alive.
Convenient Control Module
Controls are all at your fingertips. Use the slider switch on the control module to turn noise cancelling on and off.
Fingertip control 
The 4-button inline remote/microphone houses the Aware Mode, call answer/end and volume buttons customized for use with your iPhone or iPod, adds music control and voice commands.
Rechargeable lithium-ion battery 
The built-in lithium-ion battery (located inside the module) charges in just 2 hours with the included USB cable, and delivers up to 16 hours playing time per charge.