SYSKA Wireless EARPHONES H-15 BlueTooth Headphone(Black)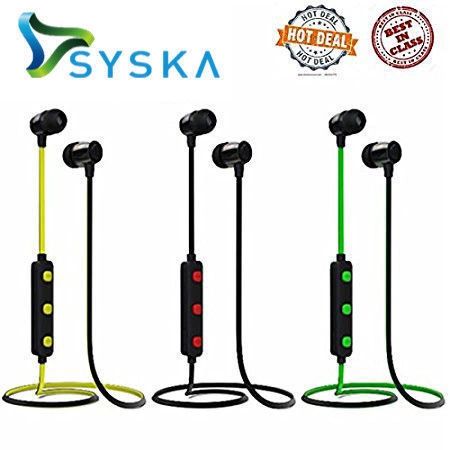 SYSKA Wireless EARPHONES H-15 BlueTooth Headphone(Black)
CASH On Delivery Available
1.Yo-Gift Available

Buy SYSKA Wireless EARPHONES H-15 BlueTooth Headphone at a price of Rs.399 from Yoshops.com
Product Details:
Model Name: HE15 Beat Pro headphone
Color: Black
Headphone Type: In the Ear
Inline Remote: Yes
Connectivity: Bluetooth
Product  Description:
H-15 comes with Hi-Fi Stereo Sound which provides you an upscale music experience. It also features a high definition built-in microphone which may pass your voice to the listener in a much clearer way. It is often used for voice prompts which ensure easy hands-free operation. The voice prompt helps in easy multitasking between calls and music.
Google:syska wireless earphones h-15,syska wireless earphones price,syska wireless earphones h-15 price,syska wireless earphones how to connect,syska wireless earphones review,syska wireless earphones price in india,syska wireless earphones charging time,syska wireless earphones Yoshops,syska accessories wireless earphones,syska proactive wireless earphones,syska accessories proactive wireless earphones,syska proactive wireless earphones he5600,syska wireless bluetooth earphone,syska wireless earphone,how to use syska wireless earphones,syska wireless bluetooth earphones,syska wireless earphones c2-bk,syska wireless earphones c2-bl,syska reverb wireless earphones c2-bk,syska wireless bluetooth headset,syska wireless bluetooth headphones,syska wireless earphones c2,syska reverb wireless earphones c2-gy,syska reverb wireless earphones c2-gn,syska reverb wireless earphones c2 rd,syska wireless earbuds,syska eargo wireless earphones,syska eargo wireless earphones ieb 100-bk,syska eargo wireless earphones price in india,syska ieb 300 eargo wireless earphones,syska wireless earphone price,syska wireless earphone Yoshops,syska wireless earphones ieb 100-gy,syska wireless earphones how to use,syska wireless earphones he5600,syska wireless earphones h-15 review,syska wireless earphones h-15 original,syska wireless earphone h-15 charging time,syska proactive wireless earphones he5400,syska h-15 wireless earphones price,syska accessories wireless earphones h-15,syska wireless headphones,syska headphones wireless k700,syska wireless headphones with mic,syska he5300 wireless earphones with mic,syska he5300 wireless earphones with mic price,how to connect syska wireless earphones to mobile,syska wireless earphone h-15 review,syska wireless earphones pairing,syska wireless headphones price,syska reverb wireless earphones price,syska eargo wireless earphones price,syska wireless earphones h15 price,syska c2 wireless earphones price,syska reverb wireless earphones review,syska he5300 wireless earphones review,syska eargo wireless earphones review ieb 100-bk,syska reverb wireless earphones,how to start syska wireless earphones,how to charge syska wireless earphones,syska wireless earphone h-15 user manual,syska bluetooth headphone wireless earphone with mic model h-15,how to wear syska wireless earphones