UBON BASS-FACTORY bt-5100 WIRELESS HEADPHONE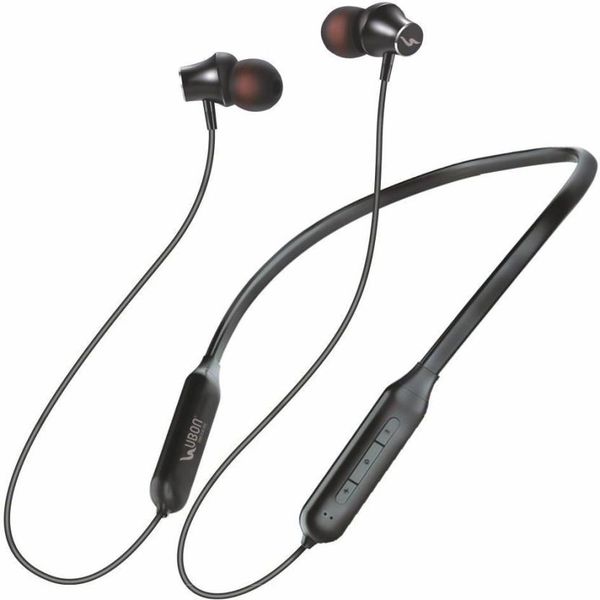 UBON BASS-FACTORY bt-5100 WIRELESS HEADPHONE
Cash On Delivery Available.
1- Yo Gift Available.
Buy UBON BASS-FACTORY bt-5100 WIRELESS HEADPHONE at price of Rs.799 from Yoshops.com
Product Detail:
Model Name: BT-5100 Bass Factory
Color: Black
Headphone Type: In the Ear
Inline Remote: Yes
Connectivity: Bluetooth
With Mic: Yes
Bluetooth version: 5
Wireless range: 15 m
Charging time: 1.5
Sensitivity:110 dBm
Impedance:16 ohm
Signal to Noise Ratio:85 dB
Minimum Frequency Response:20 Hz
Maximum Frequency ResponseL20000 Hz
Noise Reduction:40 dB
Other Sound Features: Crystal clear sound
Audio Codec: Apt-X
Product Description:
Wireless neckband designed with an advanced stereo sound system that delivers a high-quality sound experience with rich & deep bass to immerse you in music without side tones. CRYSTAL CLEAR STEREO SOUND: Bluetooth earphone is provided with technically-advanced stereo drivers & Bluetooth technology, providing you with high-quality pure stereo audio output with rich bass, clear midrange & balanced treble. SECURE FIT MAGNETIC NECKLACE DESIGN: The offered wireless earphone are often worn on the neck a bit like a necklace by attaching them together when not using; all because of magnetic earbuds. Instantly access them anytime without searching your pockets. FOOLPROOF OPERATION REMOTE: button control on the earphones in order that you'll play and pause music, adjust the quantity, answer and end calls, and activate the voice control of your smartphone with simple pushes. UP TO HOURS OF HIGH-END MUSIC: it's equipped with a high-capability mAh rechargeable lithium-polymer battery with 1hours of charging time which will allow you to concentrate on your music for up to 10 hours straight. not got to worry a few sudden shutdowns.
Google:ubon bass factory bt 5100,ubon bass factory bt 5100 price,ubon bass factory bt 5100,ubon bass,ubon bass factory bt 5100 price,ubon bass factory bt 5100,ubon bass earphones,ubon bass speaker,ubon bass tube,ubon basshunter,ubon bass army price,ubon bass headphones,ubon best bass earphones,ubon bass factory bt 5100 price,ubon explosive bass bluetooth speaker bt-4007,ubon dj sound big bass,ubon cool bass wireless speaker,ubon full bass,ubon cool bass wireless speaker price,ubon royal bass cl 35,ubon royal bass cl 35 price,ubon sp 70 cool bass price,ubon sp 70 cool bass,ubon daddy bass,ubon big daddy bass headphones price,ubon big daddy bass earphones price,ubon big daddy bass speaker,ubon big daddy bass wireless headphones,ubon big daddy bass beast series,ubon extra bass earphones,ubon thunder bass earphones,ubon high bass earphones,ubon super bass earphones,ubon bass factory bt 5100 review,ubon hook bass,ubon junglee bass,ubon killer bass,ubon mambo bass,ubon monster bass,ubon octo bass series,ubon octobass,ubon royal bass price,ubon big daddy bass price,ubon royal bass,ubon thunder bass,ubon zumba bass,ubon cl 85 zono bass