QUECHUA Sleeping Bag Arpenaz 20°C - Blue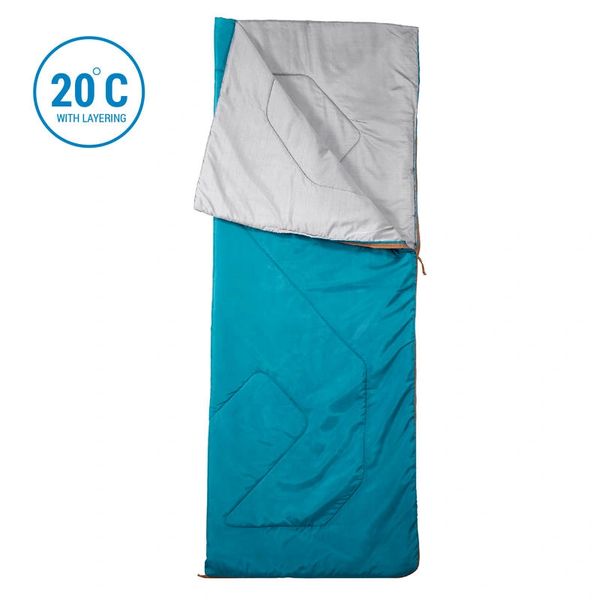 QUECHUA Sleeping Bag Arpenaz 20°C - Blue
Product Description:
·         Brand: Quechua
·         Warranty: 5 Years
·         Product Style: QUECHUA Sleeping bag
·         Parent Brand: Decathlon
·         Capacity: 10 L
PRODUCT DETAILS:
Gender :ADULT
Recommended temperature:
On all of our sleeping bags, we display the temperature ratings tested by an independent laboratory (AITEX) according to European standard EN 13537 11/04/2002. The temperature rating is the lower limit at which the user is generally in thermal equilibrium and feels neither too cold nor too hot in a relaxed pose (for a standard woman and in normal conditions of use). CHOOSE YOUR SLEEPING BAG ACCORDING TO THE LATTER
What is the comfortable temperature limit?
Limit temperature: minimum temperature at which the user, huddled up in the sleeping bag, is generally in thermal equilibrium and feels neither too cold nor too hot (for a standard man under normal conditions of use).
What you need to know about these temperatures:
A sleeping bag does not produce heat but retains the heat produced by the body. If you are tired and cold and you slip inside a cold, damp sleeping bag, it is very likely that you will feel cold no matter how good your sleeping bag is! These temperatures therefore depend on the person's resistance to cold (bulk, fatigue, etc.), equipment (mattress with insulation, etc.), clothing (naked, underwear, etc.) and weather conditions (humidity, wind, etc.).
Tips before getting into your bag:
Dress simply (just one layer of clothing is enough). Keep you head, hands and feet warm: hats, gloves, socks, hand/feet warmers, rubdowns etc. A flask of hot water can be used as a hot water bottle (if there's no chance of it accidentally opening!) Contract your muscles (70% of the energy consumed is converted into heat) but do so without moving as this could create a draught. To avoid having to wash your sleeping bag as often, we recommend using a liner sheet (ref: 8382711).
Composition
Inner and outer fabric: 100% polyester. Filling: 100% polyester 100 g/sqm wadding.
A score to compare the environmental footprint of the products
The product's environmental impact is calculated over its entire life cycle using various indicators. An overall score from A to E is given to help you easily identify the most eco-friendly products by comparing products of the same type (T-shirts, trousers, backpacks, etc.) with each other. Decathlon is committed to displaying the environmental information of its products. For more information: http://sustainability.decathlon.com/
Eco-design
TWO-TONE DOPE DYED LINER FABRIC TO REDUCE THE ENVIRONMENTAL IMPACT OF OUR PRODUCTS. DOPE DYED YARN The yarn is dope dyed when they are made. This avoids the use of dye baths. TWO-TONE weave One of the yearns used is dope dyed, the other not RESULT, COMPARED TO A CLASSIC LINER FABRIC: -65.8% fine particle emissions (PM2.5) - 65.6% Eutrophication of fresh water - 76.7% eutrophication of sea water
Storage advice
Easily store your bag by stuffing it in its bag, feet end first. To maintain the fill power that provides the thermal insulation, remove the bag and store it in a dry place.
Tested by
This sleeping bag is guaranteed for 5 years from the date shown on the sales receipt. The product covered by the warranty will be repaired or exchanged free of charge. The warranty covers product defects, excluding those resulting from normal wear and tear and improper use. This special 5-year warranty is only valid on presentation of the product and receipt.
Composition
Padding : 100.0% Polyester (PES) Lining : 100.0% Polyester (PES) Main fabric : 100.0% Polyester (PES) Carry bag : 100.0% Polyester (PES)
Keys:
quechua sleeping bags,quechua sleeping bag s5,quechua so ultralight sleeping bag,quechua vs wildcraft sleeping bag,quechua s20 zip sleeping bag,quechua s20 sleeping bag,quechua 0 sleeping bag,quechua sleeping bag 10