Sony On-Ear Phone With Microphone Wired Headphones MS177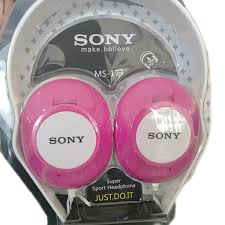 Sony On-Ear Phone With Microphone Wired Headphones MS177
Model Number:

MS177
Soft Leather Ear Cushions
Single-side, Detachable Cable
Built-In Microphone
32Ohms Impedance
Over-the-head Design
Color  

Black
Product Details
:
Sony On-Ear Sound
True Ultra in-ear headphones deliver deep, rich sound across a wide frequency range. And the sealed acoustic design comfortably immerses you in your music. The proprietary Stay Hear Ultra tips, available in three Color, 
Headphone Type         On-the-ear
Headset Design           Over-the-head
Wired/Wireless            Wired
Headphone Sound Features
Headset Driver Units  40 mm
Impedance      32Ohms
Frequency Response   10 - 24000Hz
Microphone Features
Microphone Type        In Built Microphone
Headphone Connectivity
Headphone Jack          3.5 mm
Cord Type       Single-side, Detachable, Flat Elastomer Cord
Headphone Cord Length        1.3 m
Connector Plating       Gold Plated
Additional Features
Bold Sony design and premium finishing
Premium, high-performance Sony drivers
Rotating, the 180-degree DJ pivot mechanism
Closed-Back Design
Single-sided, detachable cable
Apple three-button remote with a built-in microphone
Cable-locking mechanism
Rugged strain relief
Gold-plated jack with extension ring
Padded carry pouch
Package Contents
Note: This Product is First Copy
While we make every possible attempt to accurately depict the specifications of every product, and try to obtain these specifications from reliable sources; occasionally there may be a mismatch between the features of the actual product and that depicted on our site due to factors not under our control. We, as a merchant, shall be under no liability whatsoever in respect of any loss or damage arising directly or indirectly out of such mismatch. In case you observe such a mismatch, please report here and we will try our best to get the right information posted on our site as soon as possible.
Return & Replacement Policy: We only accept returns if the item received by you is different from what you had ordered or is received in damaged condition.